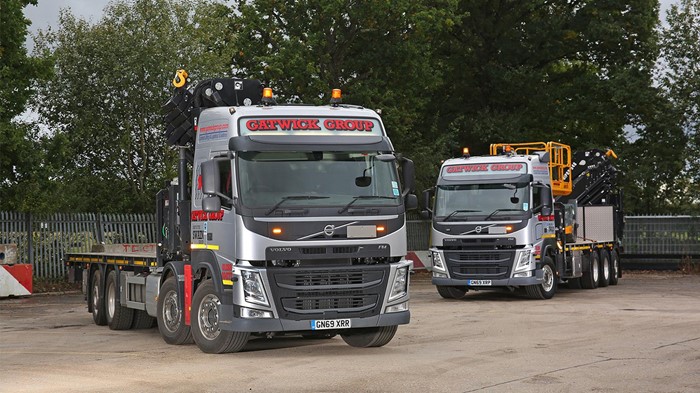 ---
Transportation, logistics, and lifting company Gatwick Group of South London recently purchased two Volvo FM rigid trucks, one with an 8x2 rear-steer chassis and the other with an 8x4 Tridem chassis. Both trucks feature Globetrotter cabs, 460-horsepower (343-kilowatt) D13K engines, and Webb bodywork. The new FMs come with Volvo Service Contracts for added peace of mind, and Gatwick Group plans to keep them in operation for 10 years.
The 8x2 model features 9-tonne front axles and a Hiab XS558-EP-6 rear cab mounted crane, all on a 6.0-metre (19.7-foot) wheelbase. The 8x4 model features a 5.2-metre (17-foot) wheelbase and has a rear capacity of 27 tonnes that supports a Hiab XS548-EP-7 crane. Gatwick Group has coupled it with a platform drawbar trailer.
Special Additions
The Volvo FMs join Gatwick Group's specialist crane fleet, which is part of parent company Swain Group's SPD (Special Projects Division). "We deliberately chose the four-axle FMs to strike the best balance of load capacity, platform stability, access, and manoeuvrability levels," says Charlie Threapleton, head of operations and special projects at Gatwick Group. "The Volvo pair are like Swiss Army knives; compact but bristling with well-designed equipment. The high roof Globetrotter Cabs will be ideal for our telecoms work, which regularly sees the trucks operate in remote, far flung places for several days on end. Our drivers appreciate the additional living space these offer, in addition to the increased in-cab storage capacities."
---


More On The Volvo FM
Volvo FM trucks are available with standard day, sleeper, and low sleeper cabs or with Globetrotter or Globetrotter LXL cabs. There are three Euro 6 engine options, including the D11K, D13K, and G13C, that range from 330 to 500 horsepower (246 to 373 kilowatts) and produce between 1,600 and 2,500 newton-metres (1,180 and 1,844 pounds-foot) of torque. There is also a version of the FM that runs on LNG (liquefied natural gas) that produces fewer emissions while still producing between 420 and 460 horsepower (313.2 and 343 kilowatts) and between 2,100 and 2,300 newton-metres (1,550 and 1,696 pounds-foot) of torque.
All FM models come standard with I-Shift transmissions, but there is a wide range of available software packages tailored to distribution, construction, long-haul trucking, and heavy-duty transport applications. Other technologies include adaptive cruise control, lane changing support, electronic stability program, driver alert support, and more.
You will find hundreds of used Volvo trucks, including a large selection of FM models, for sale at TruckLocator.