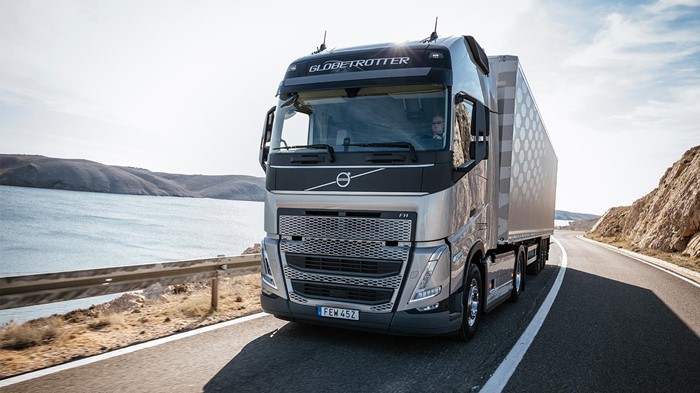 ---
Volvo recently launched the next generation of several of its heavy-duty trucks, including the FH and FH16, FM, and FMX. With the FH series in particular, Volvo took a driver-centric approach to the design, which includes a revamped cab, extra safety features, and a "superior working environment."
"With the new Volvo FH we are continuing our clear focus on designing trucks and offering services that can help drivers do a world-class job," says Roger Alm, president of Volvo Trucks. "By launching this new truck which prioritises the professional driver's productivity and comfort, we have taken an important step forward in helping our customers attract and retain the best drivers."
Exterior & Interior Features
While Volvo put much of its focus on the interior of the new FH, there are also several exterior upgrades, including realigned headlights and turn indicators for improved aerodynamics and what Volvo describes as "a bold new look." On the inside, drivers will find a 12-inch digital instrument display with four viewing modes and a 9-inch infotainment display that also features navigation, video feeds, and other helpful information. Other features include more fabric and colour options, as well as a redesigned ergonomic I-Shift gear selector.
"Easy access to a variety of information increases the driver's ability to perform more efficiently, safely and comfortably," says Carin Larsson, chief designer for user experience and human machine interaction at Volvo Trucks. "The presentation of information has improved significantly with the new displays. Demanding interactions are now concentrated on the side display, which is placed within easy reach of the driver's seat. Distractions are therefore minimised as key driving information is shown clearly on the user-friendly and easily-viewable instrument display."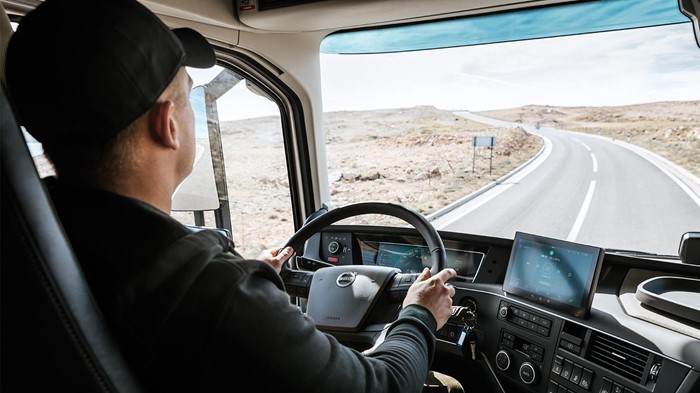 ---


Safety Features
Volvo has long emphasised safety with its vehicles, and the next-generation Volvo FH is no different. It has several standard safety features, such as adaptive cruise control that now works at any speed, descent control for maintaining speed when driving down an incline, and adaptive LED headlamps that automatically adjust high beams when a vehicle is detected or outdoor lighting changes. The Volvo FH can also recognize road signs. Other standard features include electronically controlled braking, collision warning with emergency brake, and electronic stability control. Optional add-ons include Volvo Dynamic Steering with lane keeping assist and stability assist and a corner camera on the passenger side.
---


Performance & Efficiency
The Volvo FH is available with a wide range of diesel engines, including Euro 6 D13K, D13TC, and G13C variants that produce up to 540 horsepower (402.7 kilowatts) and 2,800 newton-metres (2,065 pounds-foot) of torque, as well as LNG-powered engines "in many European markets." Volvo also offers several transmission I-Shift and I-Shift Dual clutch transmissions with a range of software packages tailored for specific applications, such as long-haul trucking.
Improved efficiency is the main standout for the FH's powertrain, as Volvo points out that customers can expect "fuel savings up to 7%" with "the new Volvo FH with I-Save for Euro 6," which "combines the new D13TC engine "with a package of features" designed to maximise efficiency. To take advantage of those efficiency gains while also reducing the truck's impact on the environment, customers can opt for the LNG engine that can run on biogas or natural gas, resulting in CO2 emission reductions of 100% and 20%, respectively, compared to diesel models.
You will find hundreds of used Volvo trucks, including a large selection of FH, FH16, FM, and FMX models for sale every day on TruckLocator.