---
This year Volta Trucks will launch the first prototype of its Volta Zero, an all-electric large commercial vehicle (LCV) designed for urban distribution, with real-world customer testing to take place in the first quarter of 2021. The Volta Zero has a range of between 150 and 200 kilometres with battery packs providing between 160 and 200 kilowatt-hours of energy. This 16-tonne electric is quiet, so it can run at any time of day, and Volta estimates that operators of its trucks "will eliminate around 180,000 tonnes of CO2 per year" by 2025. That is roughly equal to carbon usage of 24,000 houses, according to Volta.
All-Around Sustainability
The Volta Zero is sustainable for a variety of reasons, including the materials used to produce it. The exterior of the vehicle consists of body panels made from biodegradable resins and a flax material weave "developed in collaboration with the European Space Agency" that is "used in 16 of the world's most competitive motor racing series," according to Volta.
Swedish natural fibre specialist Bcomp adds to the strength of the weave with its powerRibs grid technology, which Volta says is "inspired by the principles of leaf veins." The natural exterior is as strong and light as carbon fibre, but uses only one-fourth the amount of carbon during production. Plus, it's "almost CO2-neutral over its lifecycle," Volta adds.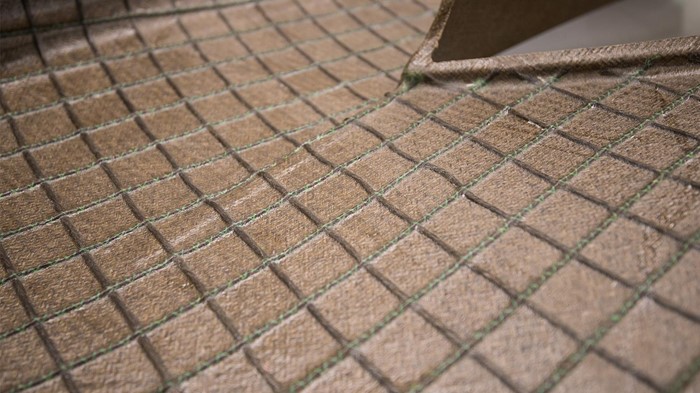 ---
The biodegradable resin used to build the body panels is made from rapeseed oil and comes from UK-based Bamd, a company that uses "solvent-free, water-based sealers and release agents" and "aims for total recyclability of all tooling materials," Volta explains. Although the body panels are naturally brown, Volta adds a natural black dye to create a "darker, technical appearance." All flax components are non-conductive, reduce vibrations, and "can be burnt within the standard waste management system and used for thermal energy recovery," Volta says.
Reducing Carbon Dioxide Emissions
"Every Volta Zero will remove tonnes of CO2 from our city's atmospheres but we believe that sustainability is more than just tailpipe emissions, so we have taken an environmental-first approach to all material sourcing," says Volta Trucks CEO Rob Fowler. "This includes the world's first use of a natural Flax and biodegradable resin composite in body panel construction that is CO2-neutral and fully recyclable. We will continue to strain every sinew to ensure we deliver on our mission of becoming the world's most sustainable commercial vehicle manufacturer."
You will find thousands of new and used tractor units and rigids, vans, buses, and trailers for sale every day on Truck Locator.