TruckLocator.ie's Web design department focuses on creating the best looking websites, designed exclusively for each dealer.
To find out more about how we can create your perfect dealer website, speak to your account manager at +44 (0) 161 871 8760 or Click Here to contact us.
Completely customisable
Dealer owns the domain name
Corporate Email included – no more Gmail!
One point of data entry for stock
Integrated website analytics
SEO friendly design
You would deal directly with your own account manager and our web development team to build a website that is right for you, the dealer, and right for your customers. With a stock management system that has been refined over decades, you can be sure that the stock displayed on your website will be accurate and look great.
Best of all, the stock advertised on a dealer's custom hosted website is linked to the www.trucklocator.ie website for maximum exposure.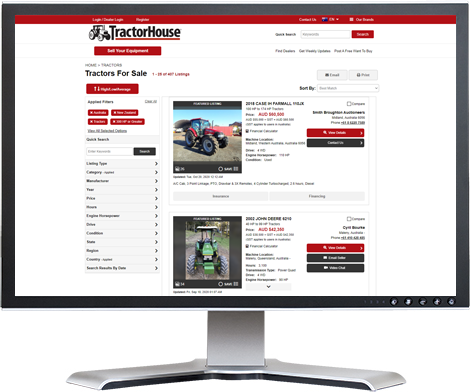 Benefits Of Hosting With Truck Locator
When your business and the technology behind it are secure, up-to-date, and running smoothly, you're better able to service your customers. With our cutting-edge software solutions and the help we provide for you to use the systems, your focus can remain on your customers and your business - let us worry about the logistics.

Security
As the technology at Truck Locator evolves, so do our security protocols and preventative measures which ensure your data remains protected. Advanced security protocols - from data encryption and the use of virtual private networks, to data redundancy and third-party verified interface solutions - ensure that digital security is an evolving and ongoing priority. Of course, our in-house IT support specialists are also available to assist dealers with security questions or concerns on an ongoing basis.

Data Redundancy
At Truck Locator we continuously invest in our data servers and the technology that improves our security, efficiency, and storage capacity, which translates into a fast, secure and reliable service for both dealers and end-users.

Technical Support
Our in-house team of qualified tech support specialists are available to assist with any and all computer-related issues at any time. Customers can call for support with any hosted services Truck Locator provides.

Contact Us: +44 (0) 161 871 8760 or Click Here.