---
It's now easier than ever for buyers seeking new and used trucks, trailers, vans, and other vehicles to quickly communicate with Truck Locator sellers. Buyers can now send questions, offers, and other enquiries to sellers by using the WhatsApp and Facebook Messenger buttons included on dealers' for-sale listings. For dealers who use these services, a button for each app will appear within their listings on all versions (desktop and mobile) of the Truck Locator websites.
What Are WhatsApp & Facebook Messenger?
WhatsApp is a free, easy-to-use, secure messaging platform used by over 2 billion people worldwide to chat and share photos, videos, PDFs, documents, voice calls, messages, and more. Facebook Messenger, meanwhile, has been around for nearly a decade and offers similar functionality on mobile devices and desktop computers. More than 1.3 billion people use Facebook Messenger, according to the company.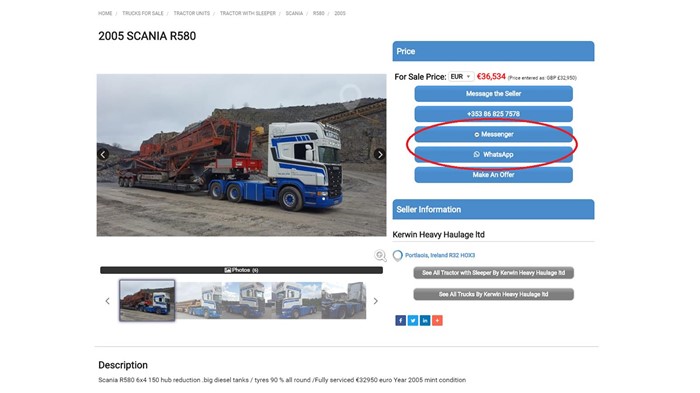 ---


Click The Buttons, Get More Information
On the Truck Locator websites, the buttons appear on listings and details pages on the left side along with click-to-call and click-to-message buttons for the seller. Click the WhatsApp button, for example, and a separate webpage opens displaying the seller's WhatsApp contact information along with a Continue To Chat button and a message prompt. The latter might read, for example, "I have a question about the 2013 Mercedes-Benz Actros 2545," and include a link to the asset.
A WhatsApp download link is also provided. For listings with more than two messaging options, buyers will see a collapsible Contact Us button that neatly organises all the options to help maintain Truck Locator's clean, streamlined web experience.
Find Your Truck
Truck Locator is the industry's leading source for thousands of new and used trucks and trailers for sale every day across the United Kingdom, Ireland, and the rest of Europe.