Mercedes Actros SLT Heavy Haulage Truck Review
There is nothing quite as impressive in the haulage industry as the leviathans of true heavy haulage, and Mercedes has shaken up that glamorous sector by introducing two new true heavy hitters. The new models will be built in-house in the Custom Tailored Trucks division (CTT) of Daimler trucks, where they are used to making exotic and specialist trucks. This is an unusual move by Mercedes. It is conventional wisdom that a market has to be of a certain size before a giant such as Mercedes can enter it. Tooling up assembly lines is a costly business and most big manufacturers look for consistency and volume to make these sums add up. This is the reason why there is such a big aftermarket industry which specialises in building specific niche body types on to the basic chassis cab.

For the most part, the investment simply isn't worth it and the market will not stand the price created by the level of investment required divided by the number of units sold. Mercedes itself has previously been of the same opinion. This is why the company pulled out of the in-house manufacture of its heavy-haulage chassis Actros back in 1996. Instead, it farmed out that production to its external contractor, Titan.

Looking for an explanation for Mercedes' change of heart, it seems that the answer may lie in a different sort of power completely. Stefan Buchner, who is Mercedes' head of trucks, has pointed to strong growth in the heavy-haulage market and attributed it to two factors. These appear to be a huge increase in oil exploration in China, which requires more power to cope with its growth, and the growing wind turbine industry in Europe. The two industries could not be more different but together they make up a niche where Mercedes sees the opportunity for profit.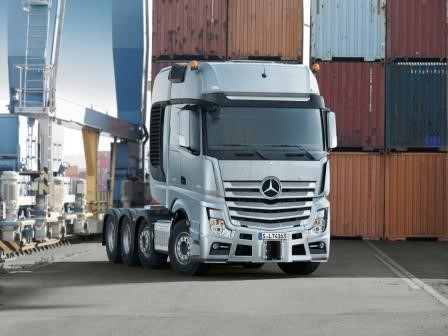 ---
To profit from this niche, it has created a dedicated CTT facility in Molsheim in the east of France. The mainstream Mercedes plant at Worth limits chassis modifications to 15 hours, but the CTT facility will handle those projects requiring more customisation and is capable of producing 8,000 such vehicles per year. This plant will use the new Actros model with its Euro 6 compliant engines to tackle production of the new Schwer Last Transport vehicle. Production of this heavy mover will now be taken away from Titan and moved in-house to the Mercedes hand-built assembly line at the Molsheim factory.
The two new models will be based on the existing Actros and Arocs platforms and will be powered by the 625hp 15.6 litre OM473 six-cylinder inline engine. With 3,000 Nm of torque and a 16-speed Powershift AMT transmission, the new power train promises to be impressive. Mercedes will also add a turbo retarder clutch, which will provide wear-free starting and more than 1,000hp of braking power. Both of the new models are rated at a whopping 250 tonnes to do STGO duties. The Actros version of the SLT is being produced as a 6x4 or 8x4 and comes in a choice of three wheelbases. The Arocs, meanwhile, extends the versatility further with a choice of six wheelbases and five different chassis layouts, incorporating both 6x6 and 8x8 versions.