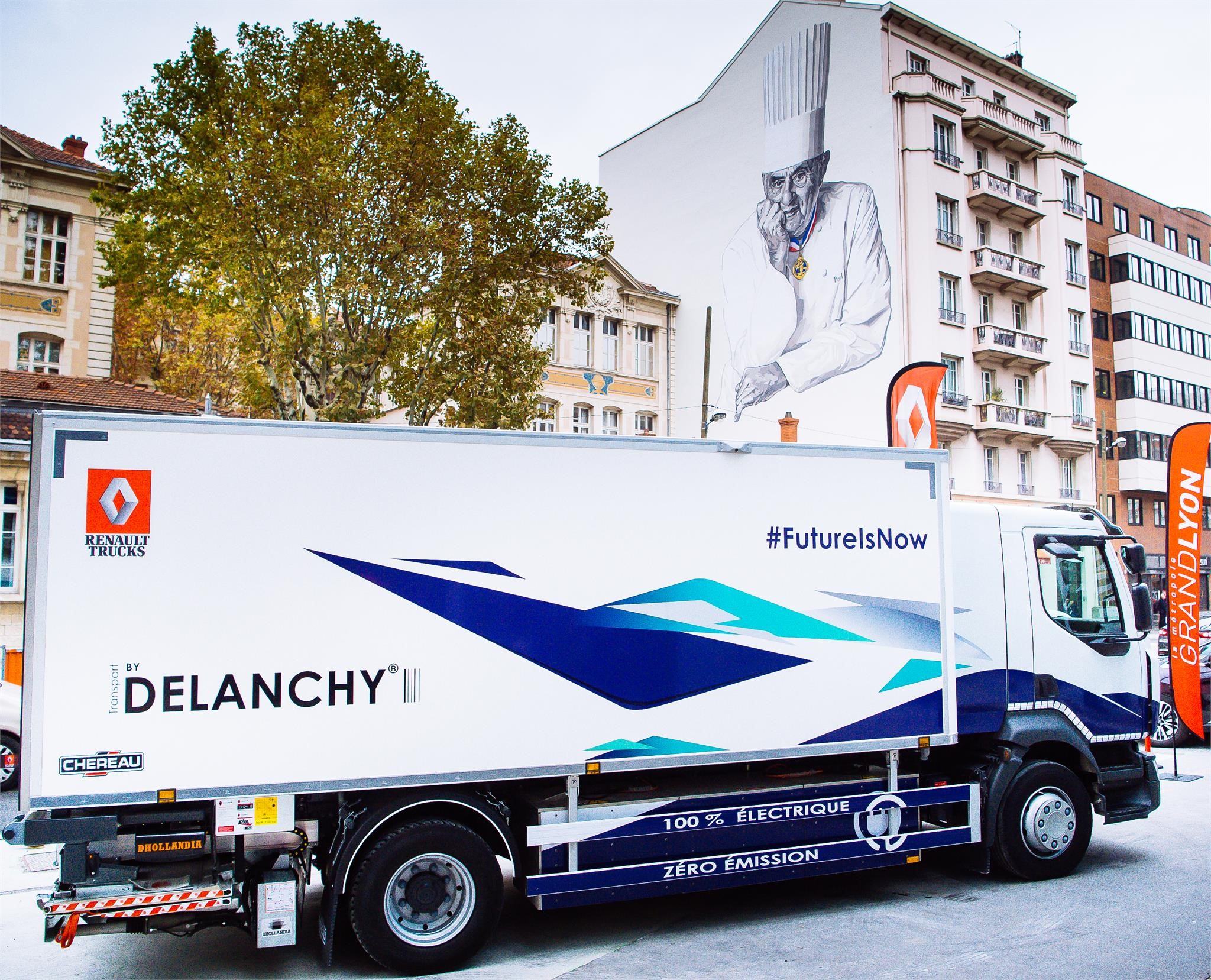 A zero-emissions HGV from
Renault Trucks
has made its debut this month, offering a refrigerated cargo area and excellent urban driving capabilities that will be put to the test during real-world trials over the course of 2018.
Created in conjunction with French logistics firm Groupe Delanchy, the truck is entirely powered by electricity, avoiding any kind of reliance on fossil fuels for day-to-day operations.
Some refrigerated trucks feature a separate engine which is used to power the cooling unit, but in this case the vehicle uses onboard batteries for both driving and temperature management. This has never been seen before on a model of this size and capacity, so it is breaking new ground and pointing to a greener future for the distribution and delivery of perishable products.
The city of Lyon will be used as a proving ground for this 13-tonne truck. If it proves to be an effective asset, it will likely be rolled out and made available more widely across Europe, which means that its eventual arrival in the UK is all but assured.
Speed to Meet Demand
Project spokesperson Joseph Delanchy said that it was impressive to see the speed with which electric truck technology was evolving to meet demand in the marketplace, with zero-emissions models now becoming increasingly desirable for businesses looking to operate in towns and cities without contributing to air or noise pollution problems.
Because the electric power train and battery-powered cooling system are much quieter than a diesel-based alternative, the truck can be driven into residential areas outside of busy periods without creating annoyance amongst people living nearby.
The truck itself is based on the
Range D
, but it has had its Euro 6 compliant engine replaced with batteries and electric motors. Even the standard models are clean and efficient by modern standards as well as offering better range capabilities than an all-electric truck.
The cab of all distribution-focused trucks sold by Renault today is kitted out with plenty of comfort features, including heated seats with lots of degrees of adjustability, ample storage room for everything a driver might need and connectivity options to keep them entertained and productive on the road.
Extras to Install
There is also the option to install Vision Doors on one or both sides of the cab, giving drivers extra visibility and getting rid of blind spots which might otherwise prove problematic when sharing crowded streets with other motorists and cyclists.
Like many other contemporary urban trucks, buyers can specify the inclusion of emergency braking systems to kick in if the driver does not react to hazards in time. Matched with a powerful and reliable brake set-up, the D Series is perfectly attuned to the challenges that cities can present.
Details about the range capabilities of this zero-emissions HGV have yet to be published, but they will presumably be made available once the trial has got under way to provide an idea of how real-world performance will play out in comparison with the manufacturer's expectations.