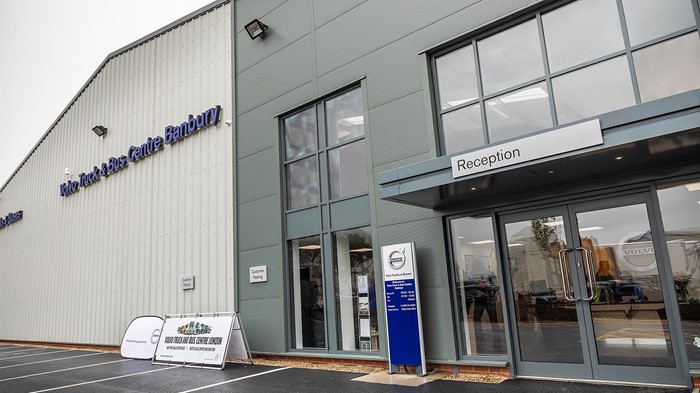 ---
Volvo Truck and Bus Centre London recently opened a new dealership in Banbury, Oxfordshire, which will offer the brand's full line of services to its customers. The facility features five service bays and a tachograph lane designed to get customers in and out for repairs and calibrations as quickly as possible. The dealership's office area features a reception lounge with amenities for customers as well as a parts department fully stocked with Volvo and Roadcrew parts and supplies. The new facility will also serve as Volvo Truck and Bus Centre London's main sales administration location as well as its Pre Delivery Inspection (PDI) point for all of the group's dealerships.
---

"The Perfect Size"
"Congratulations to the team at Volvo Truck and Bus Centre London for delivering this state-of-the-art Banbury facility for our customers to access and for the staff who will work in it," says Arne Knaben, managing director of Volvo Group UK & Ireland. "The new Dealerpoint seems a perfect size; large enough to cope with the demands of daily business, but small enough for the team here to know every customer personally."
Ready To Serve
Everything in the new Banbury building is geared toward getting customers in and out with maximum efficiency and with the ultimate goal of increasing uptime levels for Volvo trucks in addition to other makes of trucks and trailers. The facility features integrated oil dispensers, a roller brake tester, mobile column lifts, and more. The facility officially opened on May 24 and is ready to serve customers.
"We are very proud to have this new facility for both our customers in the Banbury area and customers who pass through Oxfordshire on the nearby M40 motorway who rightly expect a fast and efficient service," says Peter Groome, director of Volvo Truck and Bus Centre London. "Our new depot has been designed from scratch, in order to deliver maximum vehicle uptime."
Find Your Nearly New Volvo
You'll find hundreds of used Volvo trucks and buses for a wide range of applications for sale every day on TruckLocator