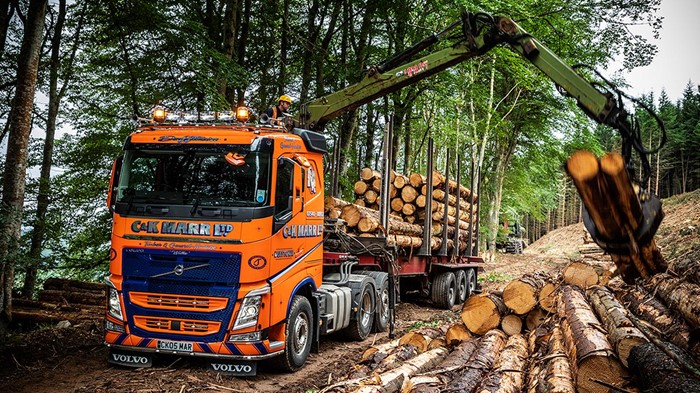 ---
C & K Marr Ltd., a timber transport company based in Dufftown, Moray, Scotland, recently purchased a new Volvo FH13-540 6x2 truck for use in its operation. The tractor unit features a flat roof sleeper cab, a Volvo D13K Euro 6 engine that produces up to 540 horsepower and 2,600 newton-metres of torque, and a 12-speed I-Shift automated transmission. The FH13-540 also sports a rear steer tag axle for enhanced handling and manoeuvrability. C & K Marr plans to operate the truck at a pace of 100,000 kilometres per year primarily in northern Scotland.
"The I-Shift gearbox was a big attraction when I looked at Volvo trucks," says Callum Marr, owning partner of C & K Marr Ltd. "I am also very impressed with the smooth, accurate cornering delivered by the rear steer tag axle's performance both on forest and public roads. The FH just glides through roundabouts and junctions, with less attendant tyre wear. It's early days yet, but I am pleased with the Volvo FH's performance so far."
---

Built For Duty
C & K Marr's FH13-540 truck will pull a Dennison timber trailer with a crane. The low roof of the FH will prevent unnecessary damage from tree limbs, and the truck comes with a Tireboss Central Tyre Inflation System to help preserve the roads that run through the forest. The FH13-540 also has a bright orange paint colour and light bars for maximum visibility. There is a three-year Volvo Gold Service Contract to give the FH some extra protection.
Find Your Own Volvo FH
TruckLocator is an excellent source for used Volvo trucks, including many nearly new FH13 trucks within the broader Volvo FH range.