---
Yardley, Birmingham,-based Euro Packaging UT Ltd. recently purchased eight Volvo FE rigid trucks to add to its fleet, including four 26-tonne 6x2 models and four 18-tonne 4x2 models. The 18-tonne trucks sport the D8K engine, which produces up to 250 horsepower, and the 26-tonne trucks feature the 320-horsepower version of the D8K Euro-6 engine. Both groups have sleeper cabs and take advantage Volvo's I-Shift 12-speed automated transmission. These eight trucks will bolster Euro Packaging's already existing fleet of 17 Volvo FH models.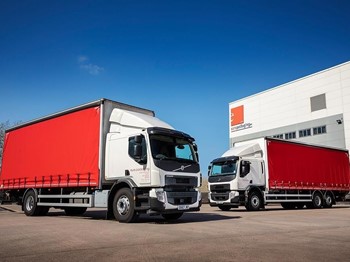 ---
"We are deploying the new Volvo FEs on long distance deliveries, nationwide," said Rob Solloway, transport manager at Euro Packaging UK Ltd., in a press release. "Our operation combines own group work alongside hire and reward jobs. Volvo trucks represent good value for money and they are the right tools for the job. Hartshorne Motor Services Ltd in Erdington, Birmingham are our nearest Volvo trucks dealerpoint and we have an effective working partnership them."
Advanced Inside & Out
Euro Packaging's FE models come with 5,800-millimetre wheelbases in a front steel, rear air-suspended chassis. They also have curtainside bodies installed by Fred Smith & Sons (Motor Bodies) Limited out of Walsall in the West Midlands. The trucks are backed by a five-year Volvo Gold Service contract and features a 100 percent uptime guarantee via Volvo's Telematics Gateway. Euro Packaging will also take advantage of Volvo's Dynafleet fleet management system.
Volvo FE Trucks For Sale
You will typically find hundreds of used Volvo trucks for sale on TruckLocator, including many used Volvo FE models in both sleeper and day cab configurations.