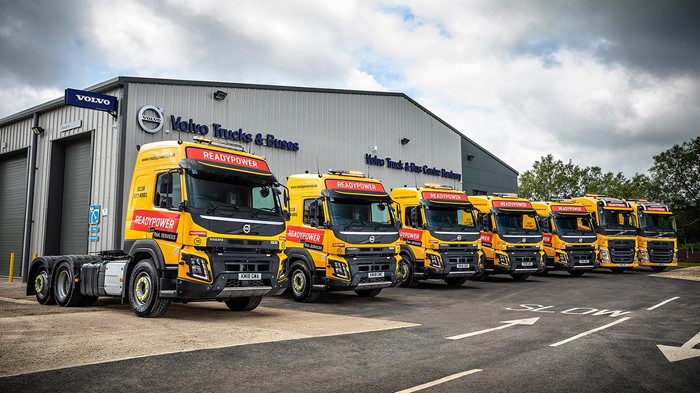 ---
Volvo Trucks , one of the world's premier manufacturers of long-haul and off-highway vehicles, together with a London-based dealer, recently delivered a series of five Volvo FMX and two Volvo FH tractor units to Readypower Rail Services. Readypower is a company that designs and manufactures custom plant, rail repair vehicles, and civil engineering equipment for rail construction projects.
Made To Order
The dealership, Volvo Truck and Bus Centre London, outfitted the new tractor units with Volvo's Globetrotter cabs on 6x2 tag axle chassis. Under the bonnets, you'll find Volvo D13K engines capable of generating 540 horsepower and 12-speed I-Shift automated manual transmissions, which are ideally suited to urban manoeuvring, as well as long-haul transport applications to cover every corner of the UK. The new trucks will be attached to semi low-loader Andover trailers with rear steer and lift axles.
In addition, Readypower Rail Services specified that the new trucks be equipped with air suspended front axles, Signal Yellow-painted cabs, and impressive gross vehicle weight capabilities. Three of the tractor units are designed to handle up to 80-tonne operations, and the remaining four can handle up to 65-tonnes. To ensure Readypower Rail Services gets the most out of its investment, the firm has signed on to a 5-year Volvo Gold Service Contract for each unit.
Safer For Everyone
According to Tony Buckland, Transport Manager at Readypower Rail Services, the new trucks also won favor for their high-visibility cabs that provide the driver with a more complete view of the truck's surroundings, making them safer when driven around pedestrians, cyclists, and motorcyclists that are common in and around London.
If you're in the market for used Volvo trucks , you will find hundreds of models for sale on TruckLocator, including scores of nearly new Volvo FH trucks .