---
Swedish truck manufacturers Scania have developed a revolutionary fuel-saving technology called "Pulse & Glide" that harnesses the truck's kinetic energy to effectively coast in neutral on downhill and flat stretches of road.

With A Little Help From Above
In 2012, Scania introduced the Scania Cruise Control with Active Prediction (CCAP) functionality, which chooses the most fuel-efficient gearing for the road up to 3 kilometres in advance, based on a data gathered from topographical maps and GPS satellites. Trucks equipped with the feature use between 5 and 7 percent less fuel, with less than a 1 percent drop in overall speed.
The latest development from Scania's team of engineers is designed to take the same data used by CCAP and let it help the truck determine when to shift into neutral, referred to by Scania as an "eco-roll," for even more fuel savings. Fredrik Roos, powertrain control strategist at Scania, and his team discovered that a slight increase in speed prior to an eco-roll manoeuver could actually yield lower fuel consumption. "By being able to increase speed—Pulse—and then freewheel—Glide—the collective time that the vehicle uses eco-roll can be considerably increased," Roos says. He adds that the technique has the ability to add an additional 0.5 percent in fuel savings overall. When used on flat roads, the fuel savings climb as high as 1.5 percent.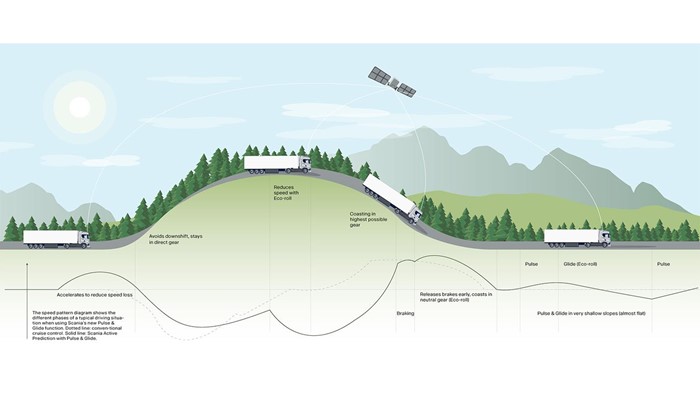 ---
Terrain Matters
Scania admit that Pulse & Glide works best on hilly roads, in light traffic, and with trucks and trailers that weigh between roughly 20 to 35 tonnes or more. But Scania and its fuel-optimizing engineers aren't about to stop there. We anticipate additional impressive developments from the company in the years to come.
If you're in the market for nearly new Scania trucks, buses, or other equipment, you'll find a wide selection available for sale on TruckLocator.