---
When Volvo introduced the FH16 in 1993, it was a 520-horsepower workhorse that the truck manufacturer billed as "the most powerful tractor in the world." Today, the FH16 range continues to be Volvo's most powerful, as evidenced by the 750-horsepower model that comes with a 16-litre Euro-6 diesel engine and can produce up to 3,550 newton metres of torque. There's also a 550-horsepower model that produces 2,900 Nm of torque and a 650-horsepower FH16 that generates 3,150 Nm of torque.
Options Galore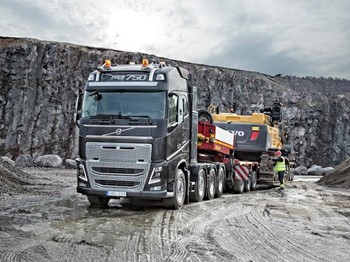 ---
The FH16 range isn't just about power, though: Volvo offers the truck with as many as five I-Shift automated manual transmission software control packages, four chassis height options, a wide range of rigid and tractor unit specifications, and much more. You can also opt for the Tandem Axle Lift feature, which lets you raise the rearmost axle when the truck is empty to improve efficiency, and the Dynamic Steering system, which actively adjusts torque and gives operators more control while reducing strain and fatigue at the same time.

Safe & Comfortable
As with everything Volvo makes, safety is a primary design consideration, and the company has also placed a great deal of emphasis on making the FH16 spacious and comfortable for the operator. There are four available cab designs, including Low Sleeper, Standard Sleeper, Globetrotter, and Globetrotter XL; each is ergonomically designed, with care taken to ensure that all controls are within comfortable reach. Volvo applies this concept to every part of the cab, from the driver's seat to the sleeping compartment.
TruckLocator has hundreds of used Volvo trucks for sale, including a number of FH16 models.