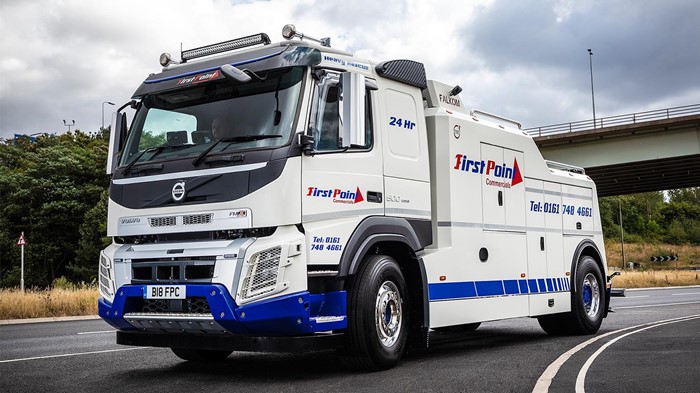 ---
First Point Commercials in Urmston, Manchester, is now operating the first Volvo FMX recovery vehicle fitted with Falkom FAW 12000 bodywork. It follows in the footsteps of an FH-540 8x4 truck last year that was the first Volvo truck to feature Falkom FAW 25000 bodywork. This 4x2 FMX truck has a Globetrotter cab, a 500-horsepower Volvo D13K Euro-6 engine, and a 12-speed I-Shift automated transmission complete with Volvo's heavy-duty, oil-cooled gearbox retarder. First Point Commercials plans to run its Volvo FMX for as long as 15 years.

Ticking Boxes
"After just a few weeks in service, the FMX is already ticking a lot of boxes with regards to efficiencies," says Rob Wooley, owner of First Point Commercials. "The new Volvo FMX is delivering unparalleled operational flexibility, as it can accommodate everything from a 3.5-ton van to a truck-and-trailer combination. Tipping the scales at under 18 tonnes, the FMX is a real 'pocket rocket' with 500 horsepower on tap and, remarkably, it's returning phenomenal fuel and Adblue consumption figures."

Bodywork Ready For Work
Falkom built custom recovery bodywork specifically for this FMX-500 chassis and equipped it with an under lift beam that can support up to 12 tonnes while fully retracted and 9 tonnes when the two-stage beam is extended out to 3.2 metres. The truck's bumper has a 1.2-tonne ballasted steel under-beam; combined with the truck's 450-litre fuel tank and another on-board ballast help the vehicle strike a proper balance during operation. Other features include a 12-tonne Sepson winch and vinyl graphics from Urmston Signs.

You'll find hundreds of nearly new Volvo trucks for sale every day on TruckLocator, including FMX and FH models.