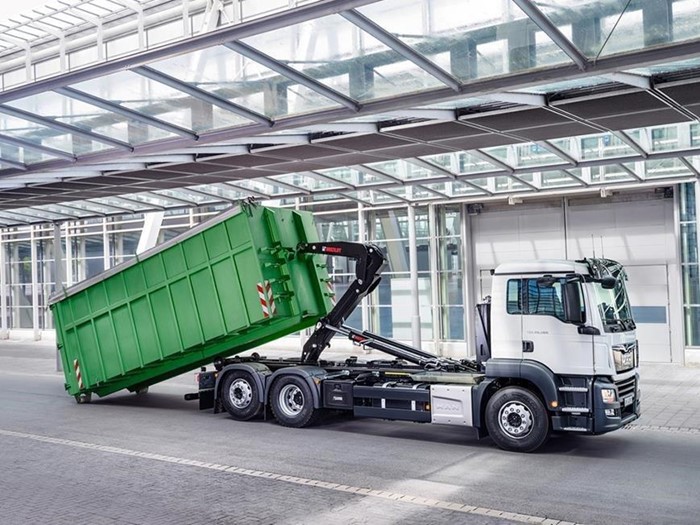 ---
Hiab, a subsidiary of Cargotec Corporation that manufactures loader cranes, forestry and recycling cranes, truck-mounted forklifts, demountables, and tail lifts, recently put the finishing touches on the MULTILIFT Ultima hooklift.
The Ultimate Hooklift
According to Hiab's Henri Janhonen, director of sales and product business management, the MULTILIFT Ultima was designed to be easier to operate and safer for everyone who works in or around the machine. The HookliftAssist feature, for instance, employs a series of external cameras to assist in the frequent load-handling and guidance tasks that the operator routinely performs. SafePositioning is another feature that lets the operator effortlessly move containers into position based on the container's proportions, preventing them from dropping off of the rear rollers and causing damage to surrounding equipment.
Integrated Load Weighing, another technology Hiab offers to its MULTILIFT Ultima customers, is designed to get the machine as close to its maximum payload without risking overload charges. FutureTouch is the name Hiab has given to its integrated touch-screen control pane, which puts the hooklift's various functions at the operator's fingertips. Items you can view from FutureTouch include diagnostic messages, load indicator messages, weight information, and the Integrated Weighing System data.
Loaded With Extras
HiConnect is an optional feature available to MULTILIFT Ultima customers; it provides easily understood overviews and graphs designed to let operators monitor a machine's status, schedule routine maintenance tasks, and maintain high productivity. Customers can also sign up for Hiab ProCare, the company's comprehensive service contract designed to keep the MULTILIFT Ultima operational and available when you need it most.
Source: Hiab