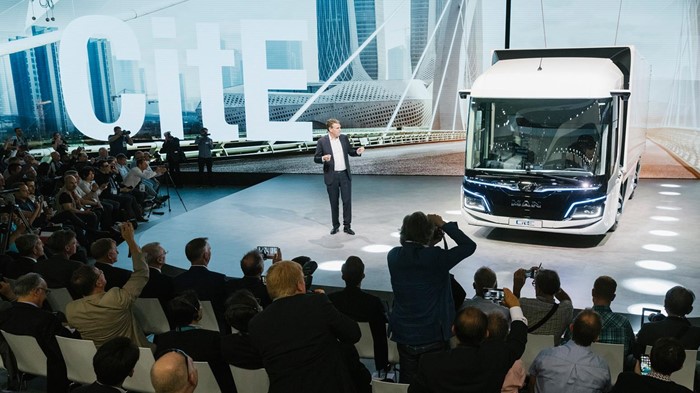 ---
MAN Truck & Bus will focus on new vehicles and digital solutions at IAA Commercial Vehicles 2018, running from 20-27 September in Hannover, Germany. "Electric mobility, digitalisation, autonomous driving—many of our customers want to be more informed when it comes to these topics. At the IAA we want to provide simple answers to complex questions," says Joachim Drees, chairperson of the executive board at MAN Truck & Bus AG. "To do so, we create solutions tailored to the needs of our customers and help them to make their businesses simpler, more profitable, more sustainable and future-proof."

MAN CitE
The MAN CitE is a 15-tonne electric truck designed for use in urban environments that MAN developed in a matter of 18 months. It has a maximum range of 100 kilometres, plus a 350-millimetre low entry step and extra-wide doors to make it easier for stop-and-go deliveries. The MAN CitE features a panoramic windscreen and a 360-degree camera system that essentially eliminates blind spots, thereby ensuring the safety of other drivers as well as pedestrians. MAN designed the CitE with ergonomics in mind, with all displays in clear view, controls and compartments easy to reach, and a passenger seat that automatically folds to create extra space in the cab.

MAN eTGE
In addition to displaying its other TGE vans at IAA 2018, MAN is also introducing the all-electric eTGE 4.140 van at the show. Like the CitE, the eTGE is intended for in-city use where light commercial vehicles flourish. The van can hold up to 1.75 tonnes of cargo and has a theoretical maximum range of 160 kilometres. With a DC charging station that produces 40 kilowatts in a combined charging system (CCS), you can charge the eTGE up to 80% in about 45 minutes. It offers a wide range of safety features, including Emergency Brake Assist (EBA, an advanced emergency braking system), a rear-view camera, side protection, and much more. MAN will start producing the eTGE in July of next year at its plant in Września, Poland.

---
MAN TG Series & eTGM
MAN's TG series of trucks, which includes the MAN TGM, TGL, and TGX models, offers a wide range of engine options that make them a fit for various applications. The D38 engine provides up to 640 horsepower, the D26 offers up to 500 horsepower, and the D08 offers up to 220 horsepower in a four-cylinder configuration, whereas the six-cylinder version offers up to 320 horsepower. MAN will also show off updates to its TipMatic series of transmissions with a 6-speed, 12-speed, and 12+2-speed versions available.

MAN will introduce a new addition to this series at IAA 2018 in the form of the eTGM fully electric truck. The 26-tonne model, which MAN will feature at the show, has a swap body frame in a 6x2-axle configuration. The truck will have a maximum operating range of 200 kilometres and its electric motor can produce up to 264 kilowatts and 3,100 newton-metres of torque. Test drives will be available for IAA 2018 attendees over the course of the event.

MAN Lion's City E
On the bus front, MAN is debuting its Lion's City E at IAA 2018. This bus has a maximum range of 270 kilometres and can be fully charged in around three hours. Due to the location of the motor on the driven axle, the bus can support up to four extra passenger seats. MAN plans to start real-world testing of electric buses in 2020 in various cities around Europe with the hopes of commencing full production of the battery-electric Lion's City model soon after.

---
MAN Technologies & Digital Solutions
MAN will also take the opportunity to highlight some of its technology initiatives at the show. One focus is the company's truck platooning system, whereby trucks can autonomously follow in a line while only around 10 to 15 metres apart from each other. MAN has already been testing this technology since late June on a road between Nuremberg and Munich in Germany.

According to Drees, "MAN is transforming itself from commercial vehicle manufacturer to supplier of intelligent and sustainable transport solutions." To help in that transition, the company's vehicles will take advantage of cloud-based solutions to gather analytics about vehicles, including performance, location, and more. MAN will continue to build on the foundation of its Man DigitalServcies platform and work to improve fleet management through a series of updates and innovations in the future.

Get A MAN Truck Now
If you're looking for a vehicle in the here and now, you'll find hundreds of used MAN trucks of sale on this site, including nearly new TG Series models, like the MAN TGM and MAN TGL.