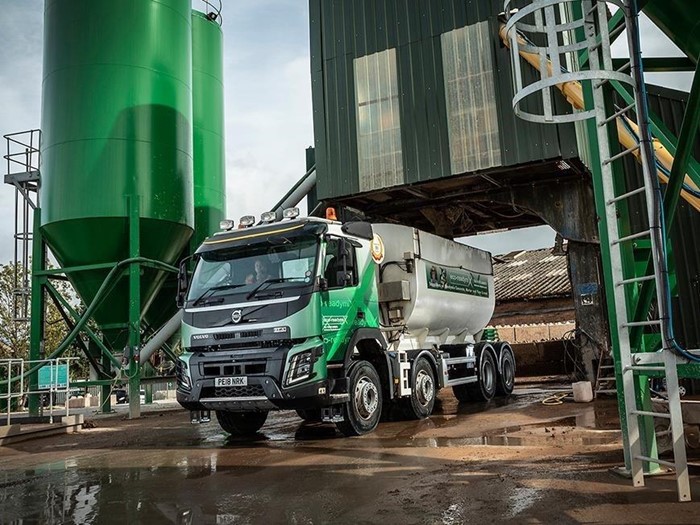 ---
Eco-Readymix, a ready-mix concrete supplier based in Rhostyllen, Wrexham, Wales, recently added a new Volvo FMX 8x4 rigid chassis truck to its fleet. The FMX features a 410-horsepower D11K engine and an I-Shift automated manual transmission. It has an X-High B Ride 5,100-millimeter wheelbase, RTS2370A single reduction drive axles, and a day cab. It also sports a Roltech Multi-Pod ready-mix mortar body, co-designed by Eco-Readymix, with five discrete storage sections, making it easy to handle several deliveries in a single trip.
"Our multi-compartment bodies are under constant development, and the latest Volvo FMX 8x4 rigid moves the bar upward again," says Gary Billington, owner and managing director of Eco-Readymix. "We always maximise vehicle utilisation to provide our customers with unrivalled service levels and time critical deliveries. Volvo Trucks are equal to the best around and they seem to carry weight better than any other marque."

Long-Term Relationship
Over the past year and a half, Eco-Readymix has added nine Volvo trucks to its fleet, all of which share the same multi-compartment design. The company also recently restored a 20-year-old Volvo FM7 truck to keep it in operation. This dedication to Volvo Trucks is further encouraged by the company's positive relationship with its local dealer.

"The levels of service we receive from Thomas Hardie Commercials Ltd in Deeside are brilliant," says Billington. "We also opt for four-year Volvo Gold Service Contracts and in between these planned workshop visits there have been no issues whatsoever. Our drivers like Volvo trucks and that's important."

This site features hundreds of used Volvo trucks for sale, including several nearly new Volvo FMX models. You will also find used Volvo chassis cab trucks and a variety of concrete trucks from numerous manufacturers.