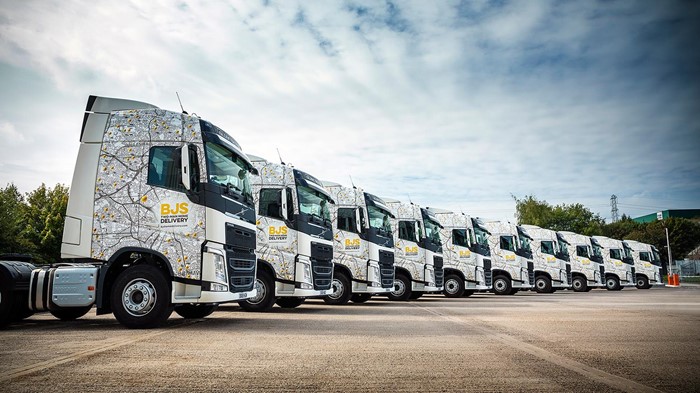 ---
BJS Home Delivery, a transport company based in Wednesbury in the West Midlands, recently added ten Volvo FH trucks to its fleet. These tractor units all have 500-horsepower D13K Euro 6 engines and I-Shift automated transmissions. They also feature Globetrotter cabs, 6x2 pusher axles, air-actuated sliding fifth wheels, front steel suspensions, and rear air suspensions. For operator comfort, BJS opted for the Drive+ and Single Bed living packages as well as 33-litre refrigerators. The exterior of each truck sports a new livery designed to look like a roadmap.

Right Truck For The Job
BJS Home Delivery specializes in two-man home deliveries with an emphasis on furniture delivery and assembly. With the 10 new FH models, the company will now have 21 total heavy trucks in addition to a large fleet of vans. BJS will use the trucks to transport loads in bulk from suppliers to the company's three depots throughout the United Kingdom, as well as for hire and reward operations.

"We're sweating our assets with the new Volvo trucks to maximise efficiencies," says Gareth Pritchard, transport manager at BJS Home Delivery. "I'm really happy with their performance levels and exceptional fuel economy figures. Our trucks average around 110,000 kilometres per year and we're also comparing Volvo's Dynafleet management system to our existing tracking and telematics programme. Our drivers like the new FHs too. The spacious and comfortable Globetrotter Cabs are proving ideal for their nights out every week."

Find Your Next Nearly New Volvo Truck
If you're in the market for new or used Volvo trucks, there are hundreds of used models for sale on this site. Browse or search the site, and you'll find a variety of used Volvo FH, Volvo FH-500, and Euro 6 Volvo FH trucks to choose from.