---
SK Distribution, a pallet delivery company and Palletways network member based in Buxton, Derbyshire, recently added a new Volvo FH-500 6x2 tractor unit to its fleet. The truck, supplied by Thomas Hardie Commercials Ltd., features a D13K engine that produces 500 horsepower, an I-Shift automated transmission, and a Globetrotter Cab. The company had previously used 460-horsepower trucks, but "wanted the extra power and the better fuel returns that should be bring," according to Vic Smith, managing director of SK Distribution. That additional horsepower will provide better performance on difficult roadways and for transporting heavy freight.

Ongoing Support
SK Distribution opted for 5-year contract hire term for its new FH-500, which is backed by a Volvo Gold Service Contract. Smith chose that plan because "it covers everything except the tyres, and includes breakdown as part of the package." The company is also happy to be working with Thomas Hardie Commercials, which has a location in nearby Middlewich that is easier to reach in peak traffic conditions.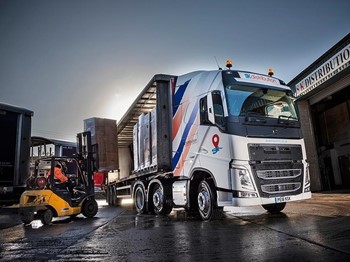 ---
"Because we've gone from outright ownership to contract hire, these trucks are definitely going to have to earn their keep, and I'm sure they will, but the proof of the pudding is in the eating," says Smith. "Although I've worked with Volvo for many years, this is the first time I've worked with Thomas Hardie Commercials as a dealer, but hopefully my instinct will be proved correct."

More On The Way
Based on past experience and the fact that its drivers are happy with the new Volvo, SK Distribution also ordered four 18-tonne Volvo FE rigid trucks, which both sport I-Shift gearboxes and extra passenger-side windows. "They're over the moon – they're all drooling over it," says Smith. "That's another reason I've gone Volvo. There's a lot of competition for drivers around here, so if we start operating kit people want to drive, that gets talked about locally and it might help get drivers through the door."

If you'd like to buy your own Volvo FH, Volvo FE, or other similar model, you'll find hundreds of used Volvo trucks for sale on this site.