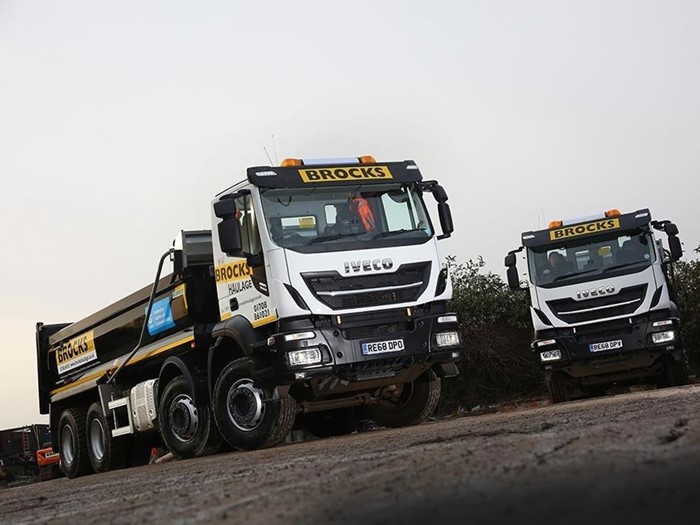 ---
Brocks Haulage, a bulk excavation company based in Purfleet, recently added nine IVECO Stralis X-Way tipper trucks to its fleet of 55 vehicles. The 8x4 rigid trucks sport Boweld bodywork and will be used to haul concrete, tarmac, contaminated materials, and aggregates. The company put a demonstrator model to work for a week at the hands of one of its "most experienced driver," who gave the truck "his seal of approval," according to IVECO.
"We needed to replace our older vehicles ahead of upcoming emissions regulations and read a lot of good write-ups in trade magazines about the Stralis X-Way," says Anthony Brown, operations director at Brocks Haulage. "This led to us taking on a demonstrator and our driver, who has driven a variety of different tippers over his 20 year employment with us, was very impressed. We're now putting all nine through their paces and performance both on and off-road has been excellent. We've used other manufacturers in the past, but the Stralis X-Way is now a major consideration for our future replacements."
Built For This
All nine X-Way tipper models have Cursor 11 engines that produce 420 horsepower and 2,000 newton-metres of torque. While IVECO also offers ON and ON+ chassis configurations for on-road operation, Brock Haulage opted for the OFF option, which features a 25-degree approach angle for better off-road performance. Also aiding in that performance bump is the HI-TRACTION system, which IVECO says "provides additional hydraulic front-wheel traction and, when needed, a boost at start function to increase torque on the front axle while starting up."
Safe & Easy To Operate
Brocks Haulage's new trucks feature a blind spot window located on the passenger door and a 360-degree camera system for improved visibility of other vehicles and pedestrians. Other features include a HI-TRONIX automated transmission, HI-MUX electrical system, and the HI-CRUISE integrated driver system, which uses predictive cruise control and gear shifting to improve fuel efficiency. All of the trucks are backed by five-year IVECO Elements service contracts.
You'll find a large selection of used IVECO trucks for sale on TruckLocator, including several IVECO Stralis models and a variety of IVECO tipper trucks.