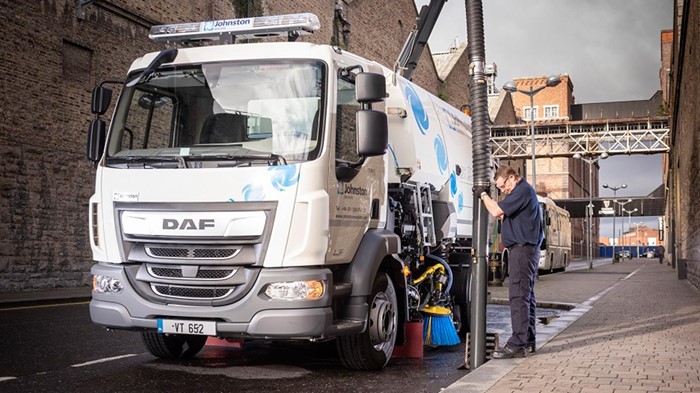 ---
DAF now offers the option for a 12-speed AS Tronic two-pedal, automated manual transmission for LF Sweeper trucks. The gearbox, which was originally available on ZF models, will serve as an alternative to the manual and fully automatic already offered on LF trucks. DAF says the AS Tronic excels at "delivering low-speed control when sweeping and efficient, low noise cruising speeds over longer distances."
The company decided to offer the option in response to demand from customers with trucks that have Johnston Sweeper bodies, and there are two models already in operation with Go Plant, based in Leicestershire, and Sweeptech, based in Henfield. The new transmission is available as an option with other sweeper body manufacturers as well.
Customer's Choice
DAF offers a wide range of models well suited for outfitting with sweeper bodies with gross vehicle weights (GVW) of 7.5, 12, and 18 tonnes. However, the company also has a 16-tonne chassis that is purpose-built for sweeper operations.
"This additional transmission option significantly consolidates the position of our dedicated 16-tonne LF Sweeper chassis as the market-leading product on the market," says David Price, municipal sales manager for DAF Trucks. "We've made an already excellent sweeper truck even more appealing to a greater number of customers. The AS Tronic is a proven automated manual gearbox, and one with which our customers will be very familiar."
Find Your Next Vehicle
You'll find a large selection of used DAF trucks for sale on this site, including several DAF LF models, some of which are already configured as sweeper trucks.