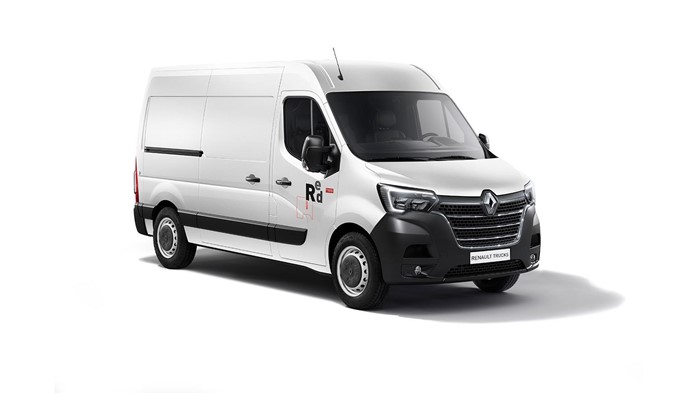 ---
Renault Trucks recently announced that its entire lineup of Master diesel and electric vehicles, including cab and chassis, platform cab, and panel van models, are now available in a Master Red EDITION. This specification brings several new engine options, exterior and interior upgrades, and a range of driver assistance technologies.
The Master Red EDITION comes standard with a Euro 6d-temp engine that produces 150 horsepower and 385 newton metres of torque, but there are also options for Euro 6d-temp and Euro VI engines ranging from 130 to 180 horsepower with up to 400 newton metres of torque. The engines are coupled with a 57-kilowatt electric engine and feature Twin-Turbo technology, which Renault says "combines low-end torque with high-power for optimal driving."
---
Exterior & Interior Highlights
The exterior of the Master Red EDITION features a chrome grille that complements the vehicle's LED lighting. The interior features a redesigned steering wheel and dashboard, a pullout tray, ergonomic storage spaces, carbon fabric seat covers, a black and chrome gear knob, air conditioning vents and buttons with chrome inserts, and a radio with USB and Bluetooth. Renault also made several operator comfort features standard on the Red EDITION, including the air conditioning, automatic headlights and wipers, and a speed regulator and limiter.
---
Safety Features & Options
Renault also introduced a host of new driver assistance and safety features, which are now available for the Master vehicle range. This includes AEBS active braking, front and rear parking assistance, a blind spot warning device, side wind assist, and a permanent rear vision system where you can view the feed of a rear-facing camera on a screen inside the cab for improved visibility. There are also additional locks on the rear and side doors for extra security and a seven-inch multi-touch screen that allows drivers to use their phones safely while on the road.
There's a large selection of used Renault trucks and vans for sale on TruckLocator, including a number of Master van models.