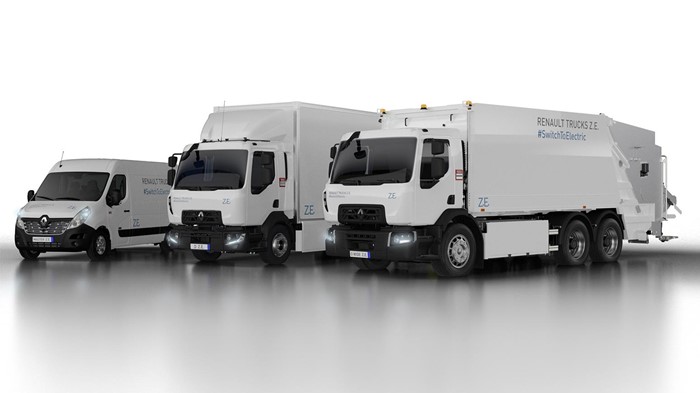 ---
The 32nd International Electric Vehicle Symposium, or EVS32, is coming to Renault Trucks' backyard in Lyon, France, and the manufacturer is preparing to have a strong presence at the show. Renault will bring a 26-ton D Wide Master Z.E. waste collection truck to the show, which is slated for 19 to 22 May this year.
The company will also present the rest of its family of 100% electric vehicles for last-mile and urban applications. Lyon is Renault Trucks' birth city, the company says.
"For Renault Trucks, electric mobility is the answer to the problematic issue of air quality and noise pollution in urban areas and one of the answers to global CO2 emissions," said the company in a statement.


The Master Z.E. Family
At 26 tons, the large D Wide Z.E. dust cart that Renault is taking to the show represents the biggest of its electric Master Z.E. lineup. A 26-ton version of the D Z.E., meanwhile, makes a good urban and refrigerated delivery platform, the company says.
The two models include PTO (power take-off) and a standard mechanical interface. The D Wide Z.E. and D Z.E. are both manufactured in Blainville-sur-Orne, Normandy.
The Master Z.E. product family, which runs on lithium-ion batteries, includes trucks as small as 3.1 tons. There are six variants available, including four panel vans and two platform cabs.
Renault says that the electric versions of its Master trucks feature the same payload capacity and cargo volume as a diesel edition. Each comes with a reversing camera, a rear backup radar system, and a wide-view mirror as standard.
As for range, Renault says that a medium-duty Master Z.E. can travel about 300 kilometers on a charge. Recharging time can take as little as six hours on an optimized power source, or about 17 hours on a domestic electrical outlet.


Electric Truck Conference
Renault Trucks will also bring an expert to speak at the EVS32 global electric mobility forum. Its alternative energy development director for Europe, François Savoye, plans to open a conference on electric heavy goods vehicles and future EU regulations regarding the carbon dioxide emissions of their internal combustion counterparts.
TruckLocator offers an impressive selection of used Renault trucks for sale, including a number of models from the Master series.