---
Penfold Verrall, a transport, plant hire, construction, and recycling specialist based in West Sussex, recently purchased four new IVECO Stralis X-Way trucks. The company replaced several models from another brand and now has a 30-vehicle fleet that consists of 90% IVECO trucks, including a number of Trakker tippers and tipper grabs. The decision to order the 32-tonne X-Ways came after a week of running a demonstrator model through its paces.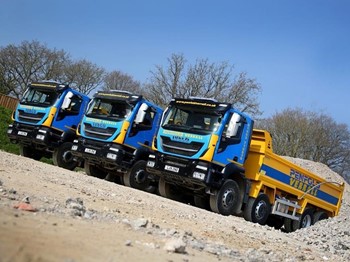 ---
"We've been running Trakkers for more than a decade and really value their suitability for off-road work and getting into landfill sites," said Darren Lynch, managing director at Penfold Verrall. "The launch of the Stralis X-Way captured our interest as it combines the robustness of IVECO's toughest model with the fuel efficiency, safety technologies and payload potential of its on-road trucks. Previously, we used to keep our trucks for three to four years, but the IVECOs have always proven so reliable we've tended to keep them for up to six years."
Specifications
Penfold Verrall chose Stralis X-Way models with the OFF chassis specification, which makes them well-suited for off-road operations. The trucks are also available with ON and ON+ chassis options, which means they are tailored for on-road driving or a mix of on- and off-road use. Each model features an 11-litre Cursor 11 diesel engine that produces 420 horsepower and 2,000 newton-metres of torque and a 12-speed HI-TRONIX transmission. The trucks also take advantage of the HI-MUX electrical system and the HI-CRUISE integrated drive system, which includes predictive cruise control and gear shifting.
Other Features
Each of Penfold Verrall's X-Way models are outfitted with Thompson tipper bodies and are designed to meet Fleet Operator Recognition Scheme Silver Standard. They also have lightweight features, including aluminum air tanks, fuel tanks, and rims for an increased payload capacity. The company plans to run the trucks for five days a week and rack up around 80,000 kilometres each year.
TruckLocator typically has hundreds of listings for used IVECO trucks for sale, including numerous used IVECO Stralis and Trakker models.