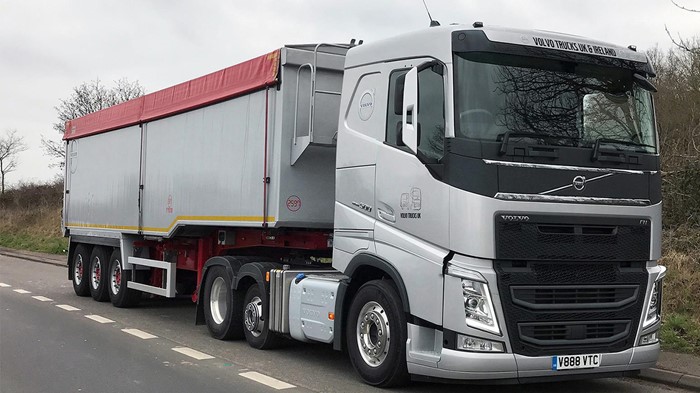 ---
Volvo Trucks will be bringing some interesting new units to the upcoming Tip-ex Tank-ex show, which is being held 30th May to 1st June in Yorkshire. In two of its trucks, the company will be showing its new factory-fitted PTO (power take off) equipment.
Tip-ex Tank-ex, which will be held at the Harrogate Convention Centre, is a national event for the tipper, bulk transport, and tanker sectors. Volvo will once again sponsor the Tipper Haulier of the Year title at the show's awards presentation.
FH Lite 6x2s With PTOs
Volvo will debut its new PTO option on two FH 6x2 Lite Pusher Axle tractors at the show. One will have a standard sleeper cab, and the other will feature a Globetrotter cab with a taller roof. The Globetrotter unit will have a dual hydraulic setup to support tippers and walking-floor trailers.
Both trucks will be equipped with 500-horsepower (373-kilowatt) D13K Euro-6 engines in their new Step D configuration. They will have I-Shift dual-clutch automatic transmissions programmed for long-haul fuel economy, along with the FH Series' signature independent front suspension with parabolic springs and rack-and-pinion steering.
The two trucks will also feature a 4-metre wheelbase, a 2.64:1 drive ratio, single-reduction RSS1144A drive axles, and rear air suspension. Their alloy wheels will be wrapped in Michelin X Line Energy rubber, while the pneumatic, sliding fifth wheels will be by Jost.
The cabs of both trucks will come with Drive + trim, 1 Bed Living, and Active Safety packages, Volvo says, as well as a Media Pack with Navigation. The trucks will sport gel batteries, 550-litre fuel tanks, and 64-litre AdBlue tanks.
---
Other Volvos At Tip-ex Tank-ex
Volvo will also show a pair of 8x4 rigid tipper trucks from its FMX Series. They will both have the new Euro 6, Step D chassis, one with a rear low-level exhaust outlet and the other with the vertical outlet option.
Outdoors, there will be a special Gold Fleece-painted Volvo tractor and trailer combo to commemorate Ernest Cooper's 100-year anniversary and to raise funds for MacMillan Cancer Support. The truck will be an FH16-750 Globetrotter XL 6x2 model with Volvo Dynamic Steering, the quiet I-Park Cool integrated climate control feature, and Dura-Bright EVO wheels.
The matching Wilcox tri-axle trailer will have a 66-cubic-yard taper frame tipper, Jost DCA axles, a Vishay onboard weighing system, and a Dawbarn Hydroclear rollover tarp.
There are hundreds of used Volvo trucks awaiting you on TruckLocator, including a big selection of models from the popular FH and FMX Series.