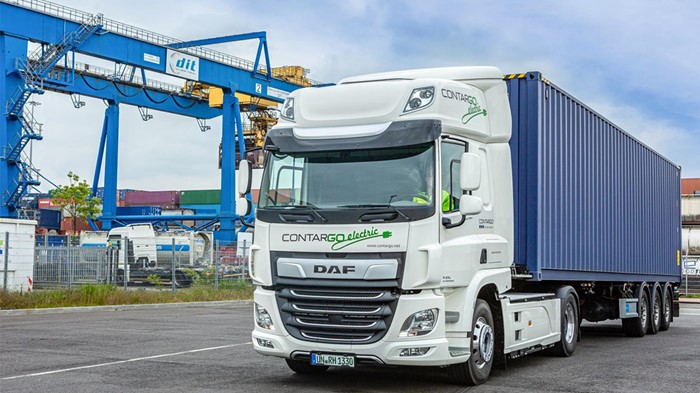 ---
Dutch truck manufacturer DAF's experimental CF Electric has won the Green Truck Logistics Solution 2019 award from Munich, Germany trade magazines VerkehrsRundschau and Trucker. The publications presented the awards for environmentally friendly vehicles the evening before the Transport Logistic trade fair in Munich began on 4 June.
Under The CF Electric's Hood
The DAF CF Electric is a 4x2 tractor unit with a 100% electric drive. The zero-emissions truck was developed for high-volume urban transport applications pulling single- or dual-axle trailers.
DAF chose fellow Eindhoven firm VDL Groep's E-Power technology to propel the CF Electric with a 282-horsepower (210-kilowatt) electric motor and a 170-kilowatt-hour, lithium-ion battery. Last year at the CF Electric's unveiling, then-DAF Trucks president (now Paccar CEO) Preston Feight said, "VDL Groep has an excellent track record in designing and producing electric powertrains for applications in public transport. These powertrains are highly suitable for use in lorries used in urban distribution."
The CF Electric currently has a range of up to 100 kilometres, depending on its load. It can quick-charge in just 30 minutes, such as during the unloading of its cargo, or fully charge in just 90 minutes.
The Green Truck 2019 award podium also showed a DAF CF 450 long-haul diesel truck, which demonstrated a fuel efficiency of 23.39 litres per 100 kilometers on the Trucker magazine's test route.
Sharing The Award
VerkehrsRundschau and Trucker also honoured Rhenus Trucking subsidiary Contargo with the Green Truck Logistic Solution award for its joint project with DAF. The container hinterland logistics network, based in Duisburg, Germany, started to trial the first of six CF Electric trucks in the 44-tonne range at the beginning of May. Contargo says it's the first German enterprise to try out electric trucks of this kind.
The first test vehicle has been doing local transport runs for containers at the Duisburg Intermodal Terminal of the inland port. A second will start working at Contargo terminals in Neuss and Emmerich.
"Electric trucks will be part of future urban life in Europe," said DAF director of marketing and sales Richard Zink. "The data we collect about the full electric technology and operational usage with leading parties such as Contargo will be engineered into the specifications of the final production models, ensuring that the vehicles will seamlessly satisfy the market's needs."
Contargo is working toward full decarbonisation by the year 2050.
"Contargo is planning to switch to green electricity at all the terminals it uses," said Jan Burgdorf, head of testing and technology for VerkehrsRundschau and Trucker. "As a result, well-to-wheel CO2 emissions can be decreased by almost 90%."
---
About The Awards
The Green Truck, Green Van, and Green Light Truck awards are for "the deployment of promising upcoming technologies for innovative, sustainable logistics around Europe," DAF says. Drive and chassis technology manufacturer ZF Friedrichshafen supported VerkehrsRundschau and Trucker in giving out the awards.
Winners are based on independent vehicle tests of their fuel consumption and greenhouse gas emissions in operation. The DAF CF Electric reduced carbon emissions by at least 38% throughout its test period.
"When awarding the Green Truck Awards, a convincing concept with demonstrable practical relevance makes the difference," said the magazines' editor-in-chief, Gerhard Grünig. "Using the two DAF CF Electric vehicles, the jury was impressed that Contargo was not simply looking to roll out a flagship project for the sake of its media profile, but had spent around two years in preparation analysing with great precision whether electric vehicles are commercially viable in the 44-metric-tonne gross vehicle weight range."
Other 2019 award winners were the Scania R 450 Highline for Green Truck up to 40 tonnes; the Mercedes-Benz Sprinter 314 CDI FWD, Green Van; and the Isuzu D-MAX Double Cab 4WD, Green Light Truck.
You'll find hundreds of used DAF trucks for sale every day on TruckLocator, including the CF450 and other CF series models.