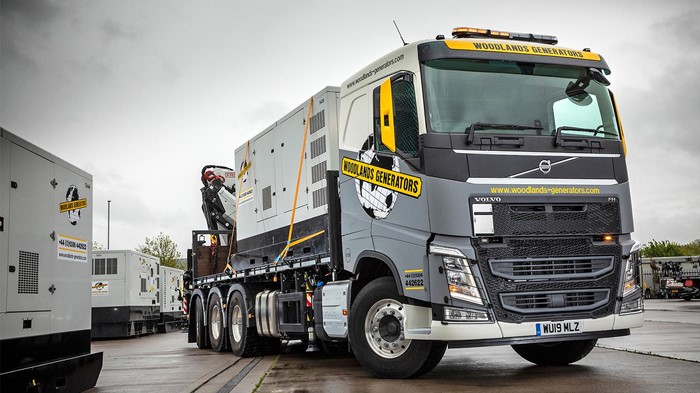 ---
Woodlands Generators, a generator rental, sales, and installation specialist based in Evesham, recently added a new Volvo FH-500 Tridem rigid truck to its fleet. The truck, supplied by Wales and West Truck and Bus Ltd, features a D13K engine that produces 500 horsepower and 2,500 newton metres of torque, an I-Shift automated transmission, and single reduction drive axles. The truck is spec'd with a 10-tonne heavy-duty front axle, 27-tonne rear bogie, front steel and rear air suspension, and a hydraulic tag axle. Other features include a standard sleeper cab, aluminium air tanks, and alloy wheels.
Purpose-Built Crane Truck
Jack Preece, director at Woodlands Generators, says that in the past, the company has used 8x4 rigids with cranes mounted directly behind the cab, but the new Tridem chassis allows the company to mount the crane to the rear, which "will bring us more flexibility when moving larger generators." The truck is equipped with an AG Bracey Ltd platform plant body as well as a Fassi F545 remote-control crane. The truck will primarily operate in the United Kingdom, but some jobs will take it elsewhere in Europe.
"Own account transport represents around 99% of the total work for our fleet. We deliver generators to Europe about once a month and the most recent journey was to Gibraltar," says Preece. "The new FH is running well and so far there have been no complaints from the driver."
---
Ongoing Support
The new Volvo FH is covered by a five-year Volvo Gold Service Contract, and proper service is always just around the corner. "Local back-up is crucial to our business and the nearby location of Truck and Bus Wales and West in Evesham is a factor in our purchasing decisions," says Preece. "We already have a Volvo FH tractor unit on our fleet. Volvo is a good brand with excellent back-up and response levels."
There are hundreds of used Volvo trucks for sale on TruckLocator, including a large selection of FH and FH-500 models.