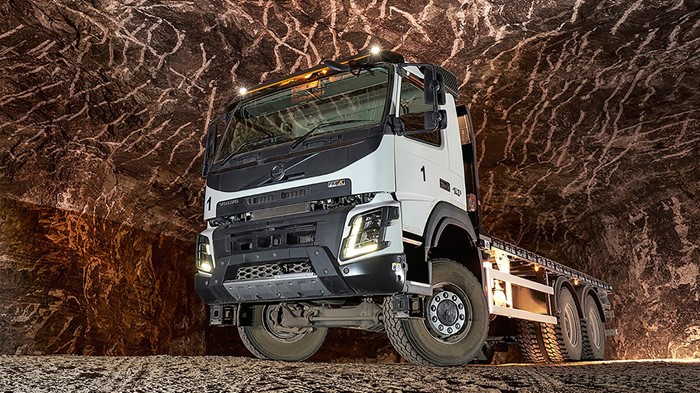 ---
Irish Salt Mining & Exploration Co. Ltd of Kilroot, Northern Ireland, recently added two Volvo FMX 6x6 trucks to its fleet, where, according to Volvo, they will "operate almost exclusively 460 metres underground in the company's salt mine." Both trucks feature a day cab sitting on a 3,900-millimetre, all-steel XX-High B-ride chassis, which offers much-needed ground clearance with an "approximately 1,150-millimetre distance between the axles and road level," Volvo says. They also have 420-horespower D13K engines, I-Shift automated transmissions, and rear hub reduction axles. The front axles is rated at 10 tonnes and is reinforced by triple-leaf parabolic springs.
Up To The Task
"We have a comprehensive mine ventilation system in place, but the Volvos' Euro 6 emissions also complement our air quality standards," says Alwyn McCreanor, company administrator at Irish Salt Mining & Exploration. "The Volvos are being used to bring 1-tonne bags of ballast into the salt mine, as part of a permanent stability operation. Each FMX can carry 12 tonnes and the pair can empty a curtainside trailer at the surface in one run. Once underground, the Volvos are then unloaded and the material is used like large building blocks, in areas previously excavated, to guard against any future roof movement."
---
Safety & Durability
Because the Volvo FMX rigids will operate in challenging conditions, the mining firm added fire suppression units under the cabs, double-pole insulators, and turbocharger shielding. "We looked at several different truck marques before ordering the Volvos," says McCreanor. "I was impressed from the outset at Volvo's build quality, whilst the ground clearance figures seemed perfect for the hard surfaces and uneven terrain that characterise our mine operations. In the past we'd used ex-military vehicles that were converted for our operations, but it's safe to say that our drivers love the new Volvos."
You will find hundreds of used Volvo trucks for sale on TruckLocator, including a large selection of FMX models.