---
Builder's merchants Tippers recently added two new FE trucks to their fleet of 45 specialist vehicles, both of which feature Hiab remote-control brick grab cranes and Fred Smith & Sons platform dropside bodies. Supplied by Hartshorne Motor Services, the 18-tonne FE has a 250-horsepower D8K engine and 12-speed I-Shift transmission, while the 26-tonne model has a 320-horsepower D8K engine and I-Shift gearbox. The FE-250 has a Distribution and Construction software package, and the FE-320 has an electro-hydraulically steered tag axle and 9-tonne front axle. The firm also has a Volvo FM on order, which they will use for their "volumetric concrete operation," says Bill Tipper, director at Walter Tipper Limited.
A Welcome Back For Volvo
Tippers isn't new to Volvo, but after a roughly 20-year break, the company decided to return to the brand by testing out a 26-tonne Volvo FE demonstrator model, which held up well and met the company's "vehicle performance and safety standards," Tipper says. From there, Tippers only had to spec the truck out with the right crane and bodywork. "The cranes are both fully remote-control operated and both truck bodies have galvanised dropside frames that incorporate vinyl signage panels," says Tipper. "This pre-empts expensive repairs should any forklift damage occur during loading or unloading, as a vinyl sign is much more economical to repair than a steel body panel."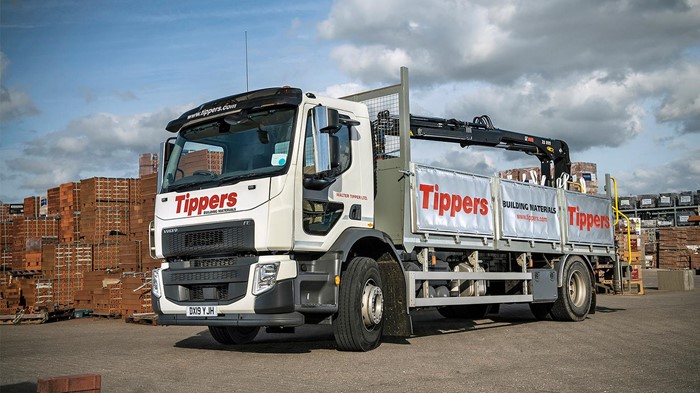 ---


So Far So Good
While the new Volvo FE trucks haven't been in operation long, Tipper says the experience has been "so far so good," and that drivers have commented on how much "they like the design." The trucks will operate out of Tippers' Lichfield headquarters, but if all goes well, the truck will have a long life ahead of it. "Our delivery vehicles have a hard work cycle and they're also a good advert for our business," explains Tipper. "We normally retain trucks for around 10 years and fully refurbish each halfway through that decade. The new Volvos will be used on both customer deliveries and inter-branch supply work to cover stock levels at our 12 sites across the Midlands."
You will find a large selection of used Volvo trucks, including FE and FM models, for sale at TruckLocator.