---
Bewlake Lift and Haul Ltd, a haulage firm based in Ballycastle, Co. Antrim, recently began operations with the help of a Volvo FH crane truck. The 6x4 FH-540 tractor unit features a Globetrotter Cab with full leather trim, a 540-horsepower (402-7-kilowatt) Volvo D13K engine, and Volvo's Tandem Axle lift feature.
It supports a truck-mounted Hiab 858 Hi-Pro EP6 crane with a lift capacity of 4.1 tonnes at 16.3 metres and up to 22 tonnes at 3 metres. The new Volvo FH will also haul an SDC platform trailer that can extend to between 33 to 54 feet (10 to 16.5 metres). Volvo says this combination allows the company to offer customers "crane and heavy transport . . . through a single vehicle solution."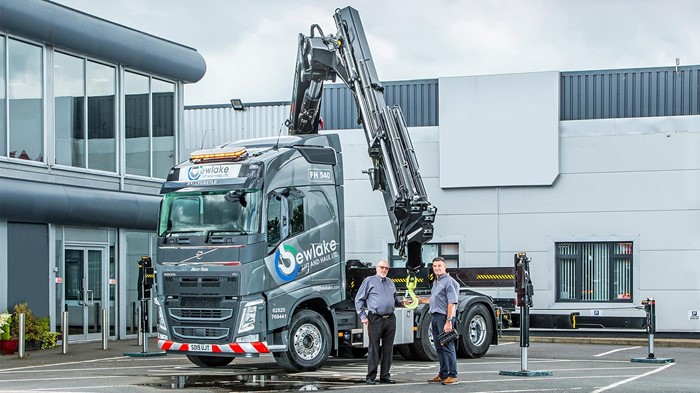 ---


A Family Tradition
Mike Blake, owner and operator of Bewlake Lift and Haul Ltd, represents the third generation of his family to work in the industry. His grandfather drove commercial vehicles before World War II and his father followed in those footsteps by owning and operating trucks for 50 years.
When it came time to start his own business, Blake took his time finding the right truck for the job. "The Globetrotter Cab has already proved comfortable for multiple nights out and generally the FH is second to none, I'm extremely happy with it," he says. "I'm starting out in business on a very strong footing. The time spent researching such a comprehensive vehicle was well worth it." Blake is also a fan of the Volvo Dynafleet fleet management platform, which he says is "a phenomenal telematics tool for a small business."
Go Volvo
If you are in the market for an FH-540 or other similar model, you will find a large selection of new and used Volvo trucks for sale on TruckLocator.