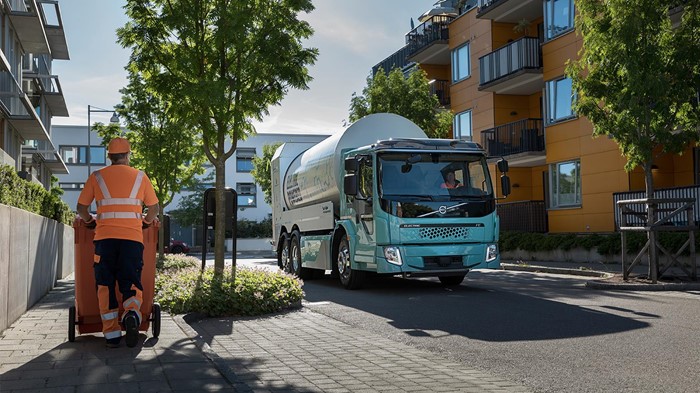 ---
Volvo recently announced that its FE Electric and FL Electric models are now up for sale in France, Germany, the Netherlands, Norway, Sweden, and Switzerland, with serial production expected to begin in March 2020. Both trucks are purpose-built for urban operations, including deliveries and waste management, with the FL model featuring a GVW (gross vehicle weight) of 16 tonnes and the FE having a GVW of 27 tonnes. Volvo adds that after the initial launch, it will expand sales out to Ireland, the United Kingdom, and other European markets "at a later date."
The smaller initial launch for Volvo's new electric trucks is largely due to the infrastructure established in certain regions. However, Jonas Odermalm, vice president of product line electromobility at Volvo, says the company is "working alongside both public and private partners to agree on a long-term strategy for the expansion of charging infrastructure" to ensure more customers have an opportunity to benefit from these models.
Environmentally Friendly & Quiet
Volvo's FE and FL electric vehicles produce zero emissions, which can improve overall air quality in cities, and they produce less noise than traditional trucks, making them well-suited for early-morning or overnight operations. Volvo says these features are particularly beneficial because they can "reduce congestion during peak hours" and "create new opportunities for city planning and road infrastructures." They can also safely operate indoors, which can make loading and unloading easier, especially in inclement weather.
---


Volvo's Approach To Electromobility
"Global urbanisation requires urban logistics and truck transport with zero emissions and less noise with increasing urgency. With the Volvo FL Electric and Volvo FE Electric we are able to meet both the strong environmental demands as well as the high commercial requirements of our customers," says Odermalm. "Volvo Trucks solutions will be based on individual business needs that consider a number of parameters, such as driving cycles, load capacity, and route analysis, to use the battery capacity in the most efficient way possible."
You will find a large selection of new and used Volvo trucks, including traditional FE and FL models, for sale every day on TruckLocator.