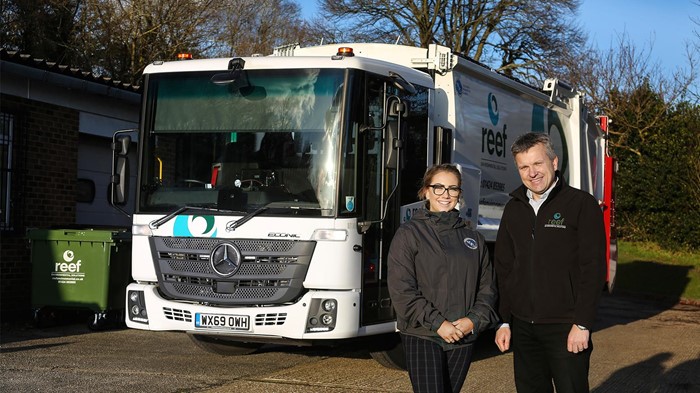 ---
East Sussex-based waste and recycling operator Reef Environmental recently added the first Mercedes-Benz truck to the company's fleet. Acquired from specialist truck provider RVS (Refuse Vehicle Solutions), the 26-tonne vehicle is based on a low-entry Mercedes-Benz Econic 2630 chassis supplied by Mercedes-Benz dealer City West Commercials. In addition to a single-compartment Dennis Eagle Olympus compacting body, the truck features a Dennis Eagle Beta Bin Lift that's specifically designed for trade and heavy domestic collections.
Time To Collect
Besides serving various businesses and public sector clients in the Kent and Sussex areas with waste management and recycling services, Reef Environmental also serves are households. The new Mercedes-Benz truck the firm is putting to work uses a 7.7-litre 220-kilowatt (299-horsepower) straight-six engine and fully automatic six-speed Allison transmission. Additionally, Mercedes-Benz points out that when operating in areas with restricted access, the truck's steerable lifting rear axle significantly enhances its manoeuvrability.
In addition, the truck includes an air-conditioned, flat-floored cab with a deep, panoramic windscreen and full-height glazed side door that Mercedes-Benz points out earned the cab a five-star Direct Vision Standard rating from Transport for London. Safety features, meanwhile, include a standard active brake assist emergency braking system.
"Best Body Available"
Paul Mintern, Reef Environmental director, says his company is "delighted" with its new truck—the second new vehicle it has acquired from RVS, which offers new, used, and remanufactured purchase options. Mintern says that Reef Environmental selected a Dennis Eagle Olympus compacting body because "we consider it the best body available," and selected the Econic chassis because it's purpose-designed for the waste management industry and more suitable for the firm's operations. "The truck's low-entry cab, great turning circle, and all-round visibility are particularly important features," he says. "It also has a superior gearbox and offers impressive performance."
RVS reportedly acquired 18 new Econic trucks in 2019 that it outfitted with bodies and bin lifts and then marketed through its RediTruck programme. Mercedes-Benz notes that RediTruck is especially attractive to operators who "have to start work on a recently won contract at relatively short notice."
Find The Right Mercedes-Benz
You'll find hundreds of new and used Mercedes-Benz trucks for sale every day on TruckLocator, including scores of Econic models and a number of Econic 2630s in particular.