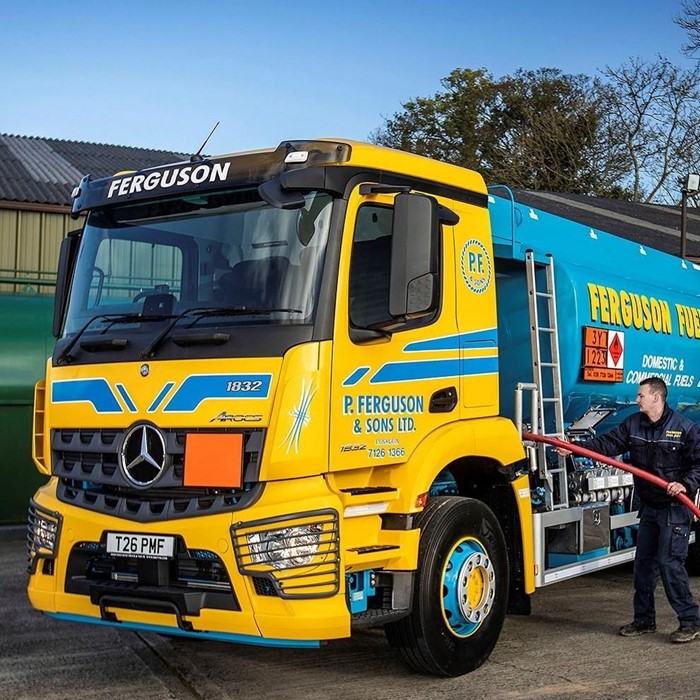 ---
Dealer MBNI Truck & Van has supplied fuel haulier P Ferguson & Sons with a pair of 4x2 Mercedes-Benz Arocs 1832 18-tonne rigids.
The trucks, with ClassicSpace M-cabs and 10.7-litre in-line six-cylinder engines generating 240 kW (326 hp), feature 13,000-litre oil tank bodies by Road Tankers Armagh.
They have lined up alongside eight other rigid tankers and a pair of tractor units, one an Actros 2558 model with StreamSpace cab and 425 kW (580 hp) 15.6-litre 'straight six', which entered service earlier this year.
The vehicles, which join a 100% Mercedes-Benz fleet, deliver heating and fuel oil to domestic and commercial clients.
Patsy Ferguson Jnr, who runs P Ferguson & Sons, based in Derry/Londonderry, with his brothers Edward and Seamus, said: "Our father was convinced that Mercedes-Benz trucks were the best he could buy, and the company's experience over the past four decades has proved him right.
"Performance is excellent and the cab interior is very well thought-out. The rugged chassis is also well suited for deliveries to farms and other rural locations, which we sometimes have to access via rough tracks.
"We maintain the trucks in-house but buy our parts from MBNI Truck & Van, whose service is well managed and pricing is competitive.
"The dealer is always on hand, too, with advice or technical support should we need it."