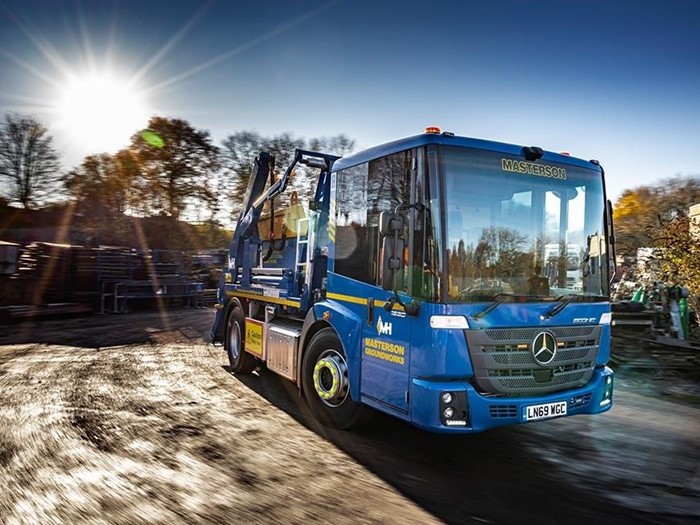 ---
Glencoe Plant Services, a plant and equipment hire specialist based in Chalfont St Giles, Buckinghamshire, that is part of the Masterson Holdings Group construction business, recently added a new Mercedes-Benz Econic model configured as a skip loader to its fleet. Glencoe Plant Services currently maintains a fleet of approximately 12 trucks, including tipper trucks and crane trucks as well as a pair of 26-tonne (28.7-U.S. ton) Mercedes-Benz models with Schwing concrete pump equipment.
The new 18-tonne (19.8-U.S. tonne) entry is an Econic 1830L with a 7.7-litre, six-cylinder, 299-horsepower (220-kilowatt) engine, 12-speed PowerShift 3 automated manual transmission, and skip loading equipment from Hyva. The vehicle was supplied by S & B Commercials, which will also handle repairs and maintenance as part of a five-year Mercedes-Benz Complete Service Contract at its location in Welham Green, Hertfordshire.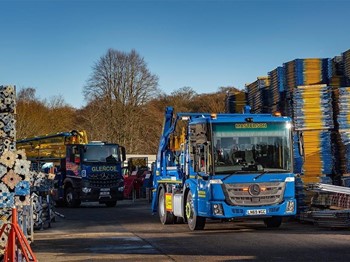 ---
Safe & Secure
While Glencoe Plant Services puts a premium on performance with their trucks, safety is also a major consideration. This made the Econic's 5-star Direct Vision rating from Transport for London a standout selling point. The Econic features a panoramic windscreen and a glazed folding side door for improved visibility, a low-positioned seat puts drivers in "direct eye contract with cyclists and pedestrians at junctions or in traffic queues," Mercedes-Benz explains. It also comes with Active Brake Assist 4 emergency braking technology with pedestrian recognition for added safety and peace of mind.
"Given that this truck will spend so much of its time in and around London, an Econic was the obvious choice. Safety and compliance were our top priorities, and having driven and learned about the vehicle at an event hosted by the manufacturer we were confident the low-entry Mercedes-Benz represented the best way forward," says Damian Kilcoyne, Plant Manager at Glencoe Plant Services.
"The great all-round visibility offered by the Econic's cab can only help to make the roads safer for vulnerable road users," Kilcoyne adds. "The fact that our driver can see so much more means that time spent at the wheel is less stressful for him, while the vehicle's low height and easy cross-cab access also enhances health and safety because he can always choose the best side from which to exit."
About The Mercedes-Benz Econic
The versatile Econic platform is highly configurable, with four axle variants ranging from 18 to 32 tonnes in gross weight. It comes in low and high cab versions with wheelbases of 3,450 to 5,700 millimetres. Either the leading or the trailing axles can be steerable. Each axle has a full air suspension that is adjustable for height.
Mercedes-Benz outfits the Econic line with 7.7-litre, inline six-cylinder engines. Diesel-burning models range from 272 to 354 horsepower (200 to 260 kilowatts). An alternative that runs on natural gas or biogas produces 302 hp (225 kW) and comes with a low 80 dB(A) noise rating. Besides the Allison automatic mentioned above, Mercedes also offers the Econic with a semi-automated PowerShift transmission with 12 forward and four reverse gears.
You will find a large selection of used Mercedes-Benz trucks for sale on this site.