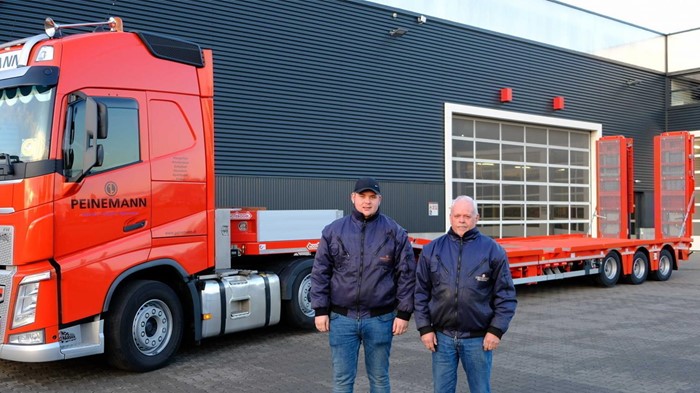 ---
Peinemann, a transport and logistics specialist based in Hoogvliet in the Netherlands that also sells and rents equipment, recently purchased three new Nooteboom trailers for use in transporting access platforms. The new trailers all feature hydraulic folding ramps, hydraulically steered axles, and hydraulic floors for easier operation. The company owns a number of other Nooteboom trailers, most of which are hydraulically controlled like its newest additions, that it uses to haul crane parts in addition to access platforms. The company also ordered a six-axle Manoovr semi low-loader that will go into operation sometime in early 2020.
Passing The Torch
Dion Mieremet, the 18-year-old grandson of 28-year veteran Peinemann driver John de Hees, will haul one of the three semi low-loader trailers, keeping the family-oriented nature of the company intact. One of the other trailers is a three-axle MCO-48-03V model that is extendible and features a "hydraulic load floor for loading on the gooseneck," Nooteboom explains.
Find Your Next Trailer
In addition to a wide range of quality new and used trucks, you will also find a large selection of trailers from Nooteboom and other popular manufacturers for sale on TruckLocator.