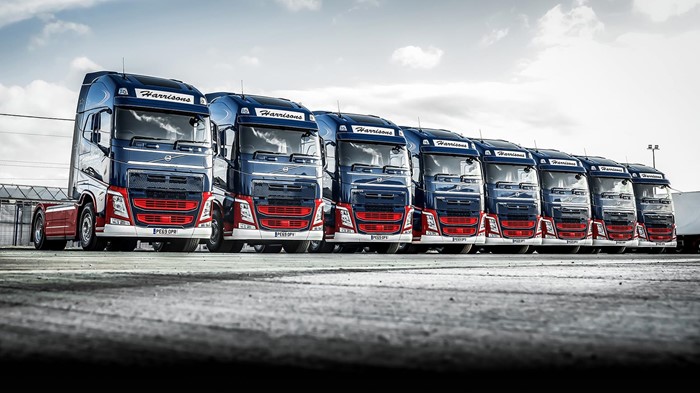 ---
Harrisons Transport, a cargo and freight company based in Holmes, Preston in Lancashire, recently added eight new Volvo FH trucks to its fleet. Each of the 4x2 tractor units features a Globetrotter XL cab sporting the company's blue and red livery on the exterior and a single bed living package, refrigerator/freezer, and microwave for maximum driver comfort on the interior. They also have 460-horsepower (343-kilowatt) engines, I-Shift transmissions with Volvo's Long Haul software, and I-See predictive cruise control.
---
The larger Volvo FH lineup has two engine options, the D13K and G13C, which produce between 420 and 540 horsepower (313.2 and 402.7 kilowatts) and from 2,100 to 2,600 newton-metres (1,548.9 to 1,917.7 pounds-foot) of torque. And while Harrisons opted for an I-Shift transmission with Long Haul software, Volvo offers transmission options geared toward basic operation, distribution, construction, and heavy-duty transport as well.
Consistency Is Key
Harrisons is no stranger to monitoring its vehicles, and in fact tracks its vehicles "24 hours a day, 365 days a year," according to Volvo. That's why the company will also take advantage of the Dynafleet fleet management system, which helps "with fuel reporting and tachograph analysis," Volvo adds. In order to ensure maximum uptime and maintain the company's reputation for reliability, Harrisons Transport's trucks also come with Volvo Gold Service Contracts, with maintenance and repair responsibilities resting on the shoulders of nearby Thomas Hardie Commercials Ltd.
Find Your Next Vehicle
You will find hundreds of used Volvo trucks for sale, including Volvo FH-460s and a large selection of other Volvo FH models, for sale at Truck Locator.