---
Cris Services Group, a Hanson contractor that specializes in transporting and distributing wet concrete, recently purchased its sixth Mercedes-Benz Econic mixer truck. The new 3235 L 8x4/4 mixer features a 7.7-litre, six-cylinder, 354-horsepower (264-kilowatt) engine, 12-speed Mercedes PowerShift 3 automated manual transmission, full air suspension, and a Schwing Stetter drum. It also comes with a three-year/160,000 kilometer warranty and a Complete Service Contract carried out by Sparshatt Truck & Van, which also supplied the vehicle.
Safety & Comfort
Another important consideration for both Cris Services Group and Hanson is safety, making the Econic ideal because of its Active Brake Assist 4 emergency breaking system with pedestrian detection and the fact that it received "a five-star Direct Vision rating by Transport for London," Mercedes-Benz adds. The truck also features enhanced visibility thanks to its panoramic windscreen, folding side door, and low-positioned seat.
"Our first Econic has been on the road for a couple of years now and has been very good – we've had no reliability issues with any of our Mercedes-Benz trucks," says Cris Calina, founder of Cris Services Group. "There was a bit of initial resistance to the Econic's low-entry cab from some drivers, but this was quickly overcome. Within a very short time at the wheel they realised how much better the visibility is, and, as a result, how much less stressful the job could be. The Econic is also air-conditioned and flat-floored, which makes it comfortable and very easy to access or exit safely."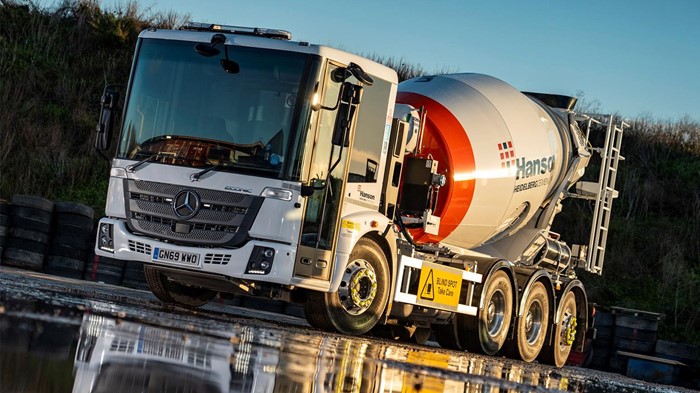 ---


More On The Mercedes-Benz Econic
The versatile Econic platform is highly configurable, with four axle variants ranging from 18 to 32 tonnes in gross weight. It comes in low and high cab versions with wheelbases of 3,450 to 5,700 millimetres. Either the leading or the trailing axles can be steerable. Each axle has a full air suspension that is adjustable for height.
Mercedes-Benz outfits the Econic line with 7.7-litre, inline six-cylinder engines. Diesel-burning models range from 272 to 354 horsepower (200 to 260 kilowatts). An alternative that runs on natural gas or biogas produces 302 hp (225 kW) and comes with a low 80 dB(A) noise rating.
You will find a large selection of new and used Mercedes-Benz trucks for sale on TruckLocator.