---
Specialized Fabrications of Gosport, Hampshire, recently purchased a new Mercedes-Benz Atego to replace one that was involved in an accident. The previous five-year-old model "suffered a twisted chassis," but, fortunately, the driver came away without any injuries, "which says a lot for the strength and safety of the Atego," according to Tony World, the company's managing director. Specialized Fabrications added its first Atego in 1999 and, after a brief stint with a model from another brand, it returned to Mercedes-Benz in 2010 and has been with them ever since.
Tony's brother, Kevin, who was the driver involved in the accident will also drive the new Atego. "Kevin is delighted with his new truck," says World. "It has a more powerful engine than the last one, as well as the automated transmission, and is a nicer, more comfortable vehicle all round. Clients are also pleased to see us investing in premium-quality equipment, as it helps to reassure them of our determination to provide a reliable delivery service."
A Worthy Replacement
Specialized Fabrications' new 7.5-tonne Atego 818, which is covered by a five-year Mercedes-Benz Complete Service Contract, features a ClassicSpace day cab with a ventilated driver's seat, a 5.1-litre 177-horsepower (132-kilowatt) engine, and a Mercedes PowerShift 3 six-speed automated manual transmission. It also features a dropside body fitted by Fareham-based Solent Bodybuilders. Specialized Fabrications will use the truck to deliver its products across the south of England.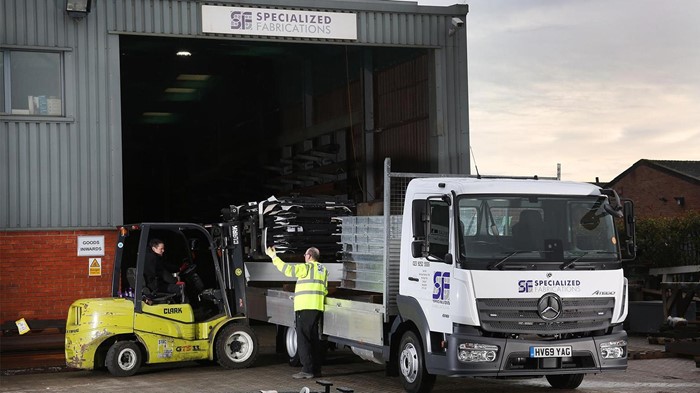 ---


More On The Mercedes-Benz Atego
The Mercedes-Benz Atego is available with any of four cab styles, including a standard or extended ClassicSpace S-cab and a ClassicSpace or BigSpace L-cab. Engine options include 5.1- and 7.7-litre variants that produce between 115 and 220 kilowatts (154 and 295 horsepower) and between 650 and 1,200 newton-metres (479.4 and 885 pounds-foot) of torque. They also come standard with Mercedes PowerShift 3 automated manual gearboxes.
Mercedes-Benz designed the 4x2 Atego for distribution applications with models ranging from 6.5 to 15 tonnes. Driver comfort features and precision steering ensure a smooth ride, while a wide range of safety features add peace of mind. Examples include stability control assist, lane keeping assist, high performance engine brakes, active brake assist, trailer stability assist, and optional daytime LED running lamps.
You will find hundreds of new used Mercedes-Benz trucks, including a large selection of Atego models, for sale every day on TruckLocator.