---
The Hartlepool Borough Council recently added two Mercedes-Benz Econic 2630L refuse trucks to its fleet and plans to add three more in April. Supplied by Bell Truck and Van, the pair of low-entry 6x2 models feature 299-horsepower (222-kilowatt) 7.7-litre engines, six-speed Allison automatic transmissions, rear-steer axles, and Farid Hillend Engineering compactor bodywork. Both trucks come with three-year/160,000-kilometre (99,420-mile) warranties, as well.
"Our Econics have proved over the years to be extremely reliable and cost-effective to operate. Build quality is first-class, and the trucks are well-liked by the operatives who use them," says Helen Beaman, waste and environmental services team leader for the Council. "The low-entry flat-floored cab contributes to health and safety in being easy to access and exit, and to move across, while the visibility provided by the extensive glazing is certainly appreciated by our drivers. With the additional enhancements we've specified this time, these new trucks will allow us to work as safely as possible, for the benefit of crews and local residents alike."
Urban-Centric Safety Features
Mercedes-Benz Econic models come standard with panoramic windscreens, glazed folding side doors, and a low seating position for enhanced visibility, as well as Active Brake Assist 4 emergency braking. Hartlepool's two newest additions also feature optional Sideguard Assist and Rearguard Assist. Both systems offer audio and visual alerts when there are "vulnerable road users" detected on the passenger side or behind the vehicle. These safety features are crucial for operating in urban areas with heavy traffic consisting of pedestrians, cyclists, and other drivers.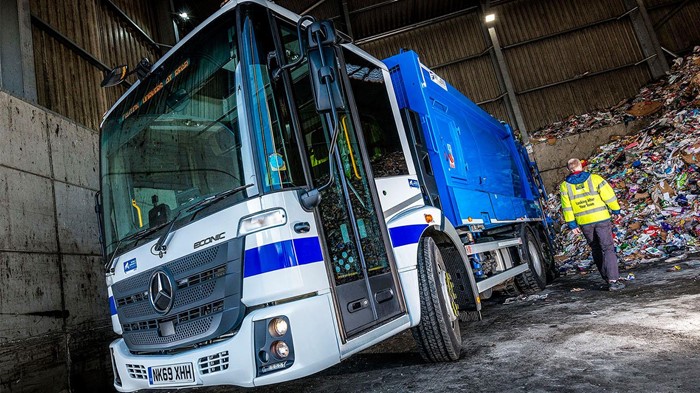 ---


Mercedes-Benz Econic Details
The versatile Econic platform is highly configurable, with four axle variants ranging from 18 to 32 tonnes in gross weight. It comes in low and high cab versions with wheelbases of 3,450 to 5,700 millimetres. Either the leading or the trailing axles can be steerable. Each axle has a full air suspension that is adjustable for height. Mercedes-Benz outfits the Econic line with 7.7-litre, inline six-cylinder engines. Diesel-burning models range from 272 to 354 hp (200 to 260 kW).
An alternative that runs on natural gas or biogas produces 302 HP (225 kW) and comes with a low 80 dB(A) noise rating. Besides the Allison automatic mentioned above, Mercedes also offers the Econic with a semi-automated PowerShift transmission with 12 forward and four reverse gears.
You will find a large selection of new and used Mercedes-Benz trucks for sale every day at TruckLocator.