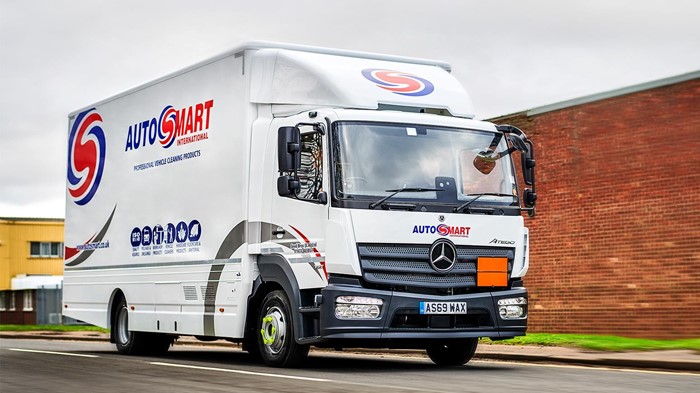 ---
Seed Brothers, an Autosmart franchisee and cleaning products supplier based in Norwich, Norfolk, recently purchased a Mercedes-Benz Atego truck outfitted as a mobile showroom by Drumack Coachworks of Northern Ireland. All but one of Seed Brothers' vehicles are Mercedes-Benz trucks; the firm purchased its first Mercedes-Benz, a 7.5-tonne Atego, more than 15 years ago. The newest entry in the company's fleet is a 12-tonne Atego 1223 LnR model that features a ClassicSpace S-cab, a 5.1-litre six-cylinder 171-kilowatt (229-horsepower) engine, and Mercedes' PowerShift 3 automated transmission.
Reliability Is Paramount
"Our vehicles are highly bespoke so we can't simply hire a replacement if one's off the road – a breakdown effectively means that we're unable to work. For this reason, reliability is the single most important attribute we look for in a vehicle," says Seed Brothers MD Andrew Seed. "We've tried other truck brands in the past, but Mercedes-Benz is clearly the best. Only on very rare occasions have we had any issues with one of its vehicles, and when they have occurred Orwell Truck & Van has invariably set us back on the road again very quickly."
---


Mercedes-Benz Atego Details
The Mercedes-Benz Atego is available with any of four cab styles, including a standard or extended ClassicSpace S-cab and a ClassicSpace or BigSpace L-cab. Engine options include 5.1- and 7.7-litre variants that produce between 115 and 220 kW (154 and 295 hp) and between 650 and 1,200 newton-metres (479.4 and 885 pounds-foot) of torque. They also come standard with Mercedes PowerShift 3 automated manual gearboxes.
Mercedes-Benz designed the 4x2 Atego for distribution applications with models ranging from 6.5 to 15 tonnes. Driver comfort features and precision steering ensure a smooth ride, while a wide range of safety features add peace of mind. Examples include stability control assist, lane keeping assist, high-performance engine brakes, active brake assist, trailer stability assist, and optional daytime LED running lamps.
You will find hundreds of used Mercedes-Benz trucks, including a large selection of Atego models, for sale every day on TruckLocator.