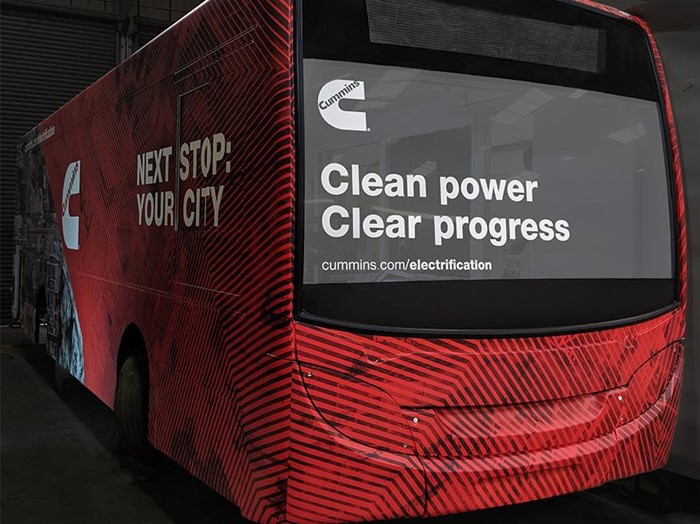 ---
Diesel engine and generator set manufacturer Cummins continues to develop alternative energy products. Last week the company showcased several at the Busworld show held in Istanbul, Turkey, on March 5-7, including a large, low-profile battery designed to fit under the floor of a zero-emissions electric bus.
"The Next Generation Battery Electric System is an exciting glimpse of Cummins' future product plans for electrified powertrains," said Cummins Vice President of Electrified Power Julie Furber. "As electric vehicles gather momentum in the public transport sector, designing batteries with faster charging and a longer range will be a breakthrough technological shift—and doing so in a form that meets regulatory requirements and at a competitive price is a vital step for the industry."
Get On The Battery Bus
Cummins developed the 150-millimetre-tall battery to nestle under the floor of an 8.9-metre-long electric bus, meeting European low-floor requirements while keeping the center of gravity down close to the road. It "uses the latest cell technology to deliver high energy density and packaging efficiency," the company said, "and represents a significant step forward for accessible, zero-emissions bus design," for the European market and elsewhere.
The underfloor battery is part of Cummins' modular Next Generation Battery Electric System, which the firm highlighted at Busworld. The powertrain product group includes roof-mounted, high-energy BP74E batteries and the firm's Cummins System Controller. Another new development intended for future green products is the Cummins Integrated e-Drive, which combines a motor, transmission, and inverter into a single, lightweight traction system.
"Coupled with the extensive global support offered by the Cummins network," said Furber, "this system combines the reliability customers expect of Cummins with the efficiency of next-generation electric drivetrains in a form factor designed for easy adoption."
An Array Of Cummins Products
In other news from Busworld, Cummins highlighted its Euro VI Phase D-compliant engines, including the B4.5 and B6.7, its L9N natural gas engine with close-to-zero emissions, and its 129- to 188-horsepower (96- to 140-kilowatt) F2.8 and F3.8 four-cylinders for the Euro VI mini-bus and coach segments.
Truck Locator offers an ever-changing selection of new and used buses for sale.