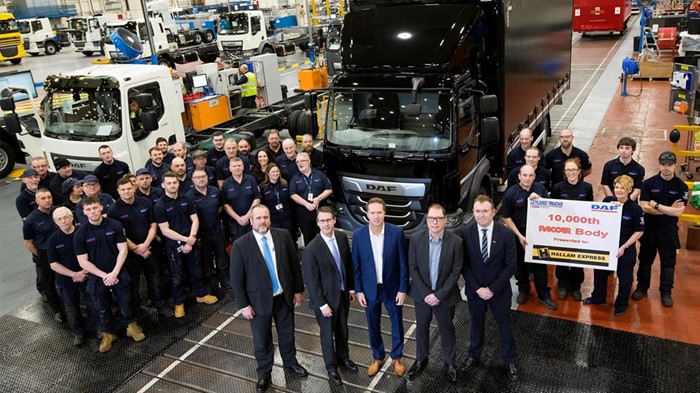 ---
Leyland Trucks of Lancashire recently hosted a milestone occasion; the firm completed the manufacture and installation of the 10,000th PACCAR body as part of DAF Trucks' PACCAR body programme. The programme designs, manufactures, and installs a wide range of PACCAR box, Aerobody, and curtain side bodies on 4x2 rigid chassis across DAF LF and CF model series. Clients are able to customise height and width, column and tuck-away tail lifts, and much more.
The 10,000th Vehicle
Operator Hallam Express of Sheffield received the historic truck, a 12-tonne DAF LF 180 curtain sider, as well as two other LF 180s and six 18-tonne LF 260 curtain siders. The vehicles will be split between Hallam Express and sister company 4S Distribution. "We were very pleased indeed with the ability to spec and acquire a complete bodied vehicle through our DAF Dealer Evans Halshaw in Sheffield," says 4S MD David Simpson. "The ordering process was very simple and, as you would expect, the lead time is reduced substantially—it is a genuine one-stop-shop service."
The PACCAR Body Programme
More than 500 customers have participated in DAF Trucks' PACCAR body programme since its launch in 2007. Operators can spec the complete vehicle through a single DAF dealer, who acts as a point of contact for acquiring a PACCAR bodied truck. Many of the right-hand-drive DAF vehicles for the UK market are built at Leyland Trucks, which produced over 19,500 vehicles in 2019.
Find The Right DAF Truck
Truck Locator provides access to hundreds of new and used DAF Trucks for sale every day, including a big selection of LF180 models.