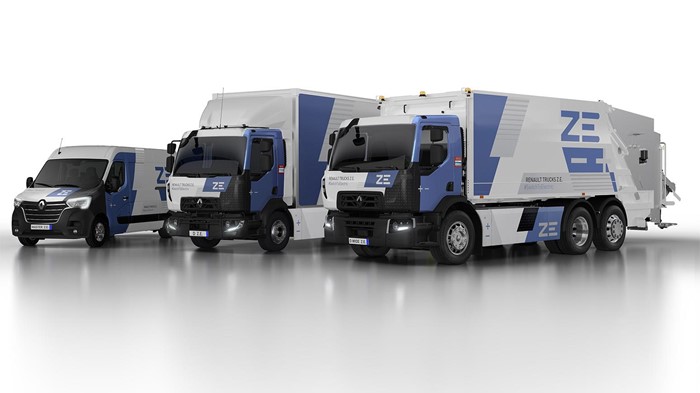 ---
Renault will officially begin electric truck production this month at its manufacturing facility in Blainville-sur-Orne, starting with its D and D Wide Z.E. models. Located in the Normandy region of France, the Blainville-sur-Orne plant manufactures 240 cabins and assembles 72 distribution trucks per day. Renault recently built an 18,000-square-metre Z.E. building next to that assembly line complete with the equipment necessary to produce electric vehicles as well as a temperature-controlled area that the firm says is dedicated to battery storage.
Manufacturing Process
Each Renault electric truck begins its life in the Z.E. building where technicians assemble a wide range of components, including the engine, transmission, drive, and modular power box. Those components then move over to the same assembly line the company uses to produce its diesel-powered trucks. Once the trucks get through assembly, they go back to the Z.E. building to complete a series of quality tests and to go through "additional technical operations," according to Renault. The entire process involves around 50 hours of work per truck.
---


Find Your Next Vehicle
Renault estimates that "electric vehicles will represent 10% of its sales volume by 2025." While you wait for an electric vehicle, head over to TruckLocator, where you'll find a large selection of used Renault vehicles for sale, including a number of Range D models.