---
Sheffield-based hauling company Toutes Directions has numerous reasons why it has used Mercedes-Benz-branded vehicles across 25 years. Transport Manager Tom Harrison says reliability, fuel efficiency, popularity among drivers, and strong support in the UK and Europe are some of them. So, too, is making a first impression. "Given the profile of the client base we serve, image is very important to us," he says. "Our modern premises are always clean and tidy, and the same is true of our fleet." That fleet prominently features Mercedes-Benz vehicles that Harrison says "look fantastic and help us to convey the right impression."
First Used Truck
Established in 1978, the family-owned Toutes Directions (or "All Directions" in French) has purchased Mercedes-Benz vehicles from Mercedes-Benz dealer City West Commercials throughout the years. In 2017, Toutes Directions bought its first used three-pointed-star vehicle from the dealer, an Actros 2545 StreamSpace. Since, it has added another four Actros 2545 tractors and one 18-tonne 1824. Each bears Toutes Directions' metallic blue and silver livery, and joins nine Mercedes-Benz trucks and six vans.
Initially, Toutes Directions transported catering equipment. Now, it primarily delivers and installs high-value equipment for companies in IT, medical, catering, and other sectors. The firm purchases new trucks regularly, but often opts for pre-owned vehicles sold through the Mercedes-Benz Approved Used program to perform certain applications. Mercedes-Benz says All Approved Used trucks sold at dealers undergo multi-point inspections and "are presented to an exceptionally high standard." Qualifying vehicles must be less than seven years old and have logged less than 700,000 kilometres. Qualifying trucks also come with at least six months of MoT and mechanical breakdown insurance coverage.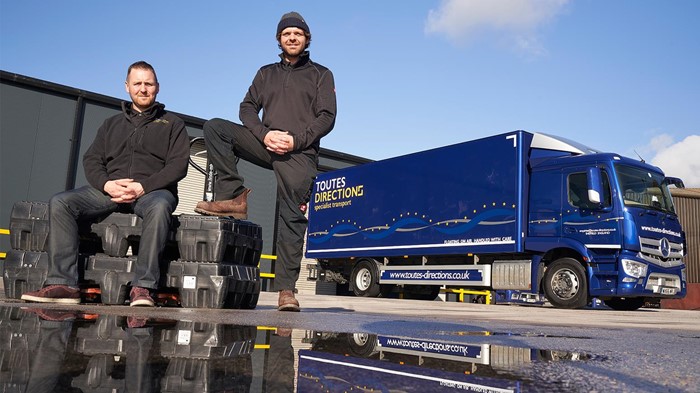 ---


Nice & Smart
"In addition to specialist transport, we carry a fair amount of time-critical air freight," Harrison says. "The vehicles assigned to this work are not as highly specified and can quickly rack up substantial mileages. Over five years, we can easily put 1 million kilometres on one of these trucks. For this work, therefore, we prefer to pick up a nearly new chassis on which someone else has taken the initial 'hit,' then paint it up so it looks nice and smart."
Find Mercedes-Benz Trucks
You'll find a huge selection of new and used Mercedes-Benz trucks for sale every day on this site, including a number of Actros models and 1824s.