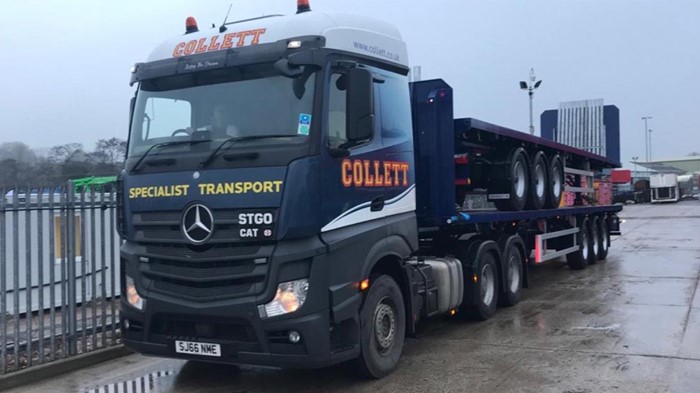 ---
Collett & Sons Ltd, a specialist in abnormal loads and heavy lifting, has purchased several PSK (platform skeletal) trailers from Dennison Trailers. With locations in Goole, Grangemouth, Halifax, and Ireland, Collett runs a fleet consisting of trucks as well as SPMTs, or self-propelled modular transporters that haul heavy equipment and other cargo. These trailers will primarily transport steelwork to construction sites across the United Kingdom.
A Deal Earned
Dennison says Collett's new trailers are bespoke versions of the base PSK unit; the two companies collaborated on the design to ensure that they meet the needs of customers in light of the COVID-19 pandemic and the many challenges that come along with it. After a series of conversations, Collett was confident that Dennison could handle those requests.
"Due to health and safety requirements, many construction sites are now demanding a high level of quality for the delivery process, which include fall arrest protection and XL headboards to name but a few," says David Collett, managing director of Collett & Sons. "It has meant a substantial investment on our part to be able to provide our services and work in this environment, but the Dennison trailers have helped us to tick all the boxes required."
Find Your Next Truck Or Trailer
You will find a large selection of new and used Dennison trailers for sale on Truck Paper, as well as thousands of trucks, vans, buses, and more.