---
The Event Gallery Fine Art Ltd of Threekingham, Lincolnshire, recently purchased a Mercedes-Benz Actros truck that is currently at a standstill due to the COVID-19 pandemic. The company hoped to attend around 30 events this year to sell original artwork and prints, but most, if not all, of those shows have since been cancelled, so the company has instead turned to online sales. When in operation, the Actros can transport "hundreds of pieces of art" and also "carries marquees and the associated equipment which the company team set up on sites," Mercedes-Benz explains.
The New (Used) Truck
This particular Actros 1842 is an 18-tonne truck with a GRP Boxta Rigid body, Dhollandia tail lift, and a roller shutter door. Before the outfitting, The Event Gallery enlisted the help of A&R Motor Services in Sheffield to refurbish the vehicle inside and out, add 200 millimetres to the chassis, and repaint it. The truck, which covered more than 440,000 kilometres in its previous life, also features a StreamSpace cab and Euro 5 engine that produces 421 horsepower (310 kilowatts).
Another key feature of the Actros 1842 is that is has a 5.8-metre wheelbase, which is shorter than many other trucks in the 18-t category. The Event Gallery is accustomed to operating smaller vehicles, including a Mercedes-Benz Sprinter van and as well as the first truck the company purchased in 2013, an Atego with a 4.75-m wheelbase. However, thanks to the slightly shorter wheelbase, The Event Gallery director David Ball can still navigate tight quarters.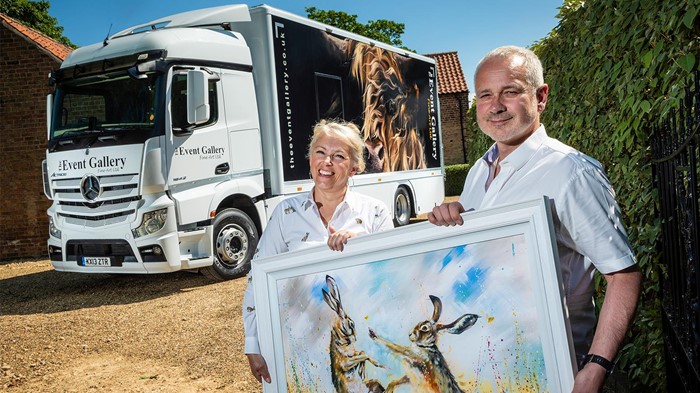 ---


From The Atego To The Actros
"That [Atego] was our first truck. It was pre-owned when we bought it in 2013 and has never let us down," says Ball says. "However, as the business has grown we found that we needed a bigger vehicle, and given our previous experience we had no reservations about buying another Mercedes-Benz chassis with a few miles on the clock. In normal times we'd probably only do 10,000 miles a year, but we invest a lot of money in attending events, so when we turn the key we need our truck to go."
More Actros Details
The fifth-generation Actros, winner of the International Truck of the Year 2020 award, is built for long-distance haulage and heavy-duty distribution. The 18- to 33-t truck is available as a rigid or tractor unit with axle configurations ranging from 4x2 to 6x4. There are 17 cab variants in two widths, with roof shape options such as GigaSpace, BigSpace, StreamSpace, ClassicSpace, and CompactSpace. Euro VI engine outputs range from 238 to 625 horsepower (175 to 460 kW) and from 1,000 to 3,000 newton-metres (738 to 2,213 pounds-foot) of max torque.
The Actros' Multimedia Cockpit combines ergonomic and connectivity refinements to allow operators to drive and live in comfort. Standard safety features include a driver side airbag and the Mercedes-Benz Safety Package, which includes Active Brake Assist with Proximity Control Assist and pedestrian recognition technology.
You will find hundreds of new and used Mercedes-Benz trucks for sale on Truck Locator, including a large selection of Actros models.