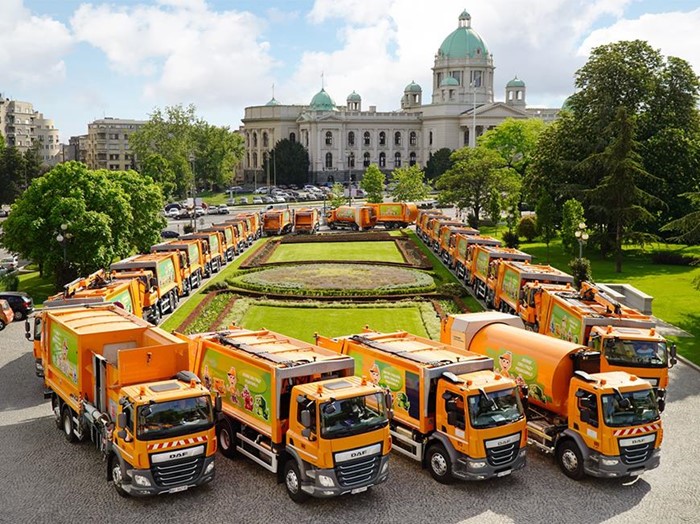 ---
DAF recently delivered its largest-ever shipment to the Republic of Serbia. City cleaning company Gradska Ćistoća purchased 44 fully fitted city sanitation vehicles, including bodies and equipment, to Belgrade, the capital city.
Among the new LF and CF trucks in the order are 18- and 22-cubic-metre refuse collection models equipped with rear, side, or top loaders. The order also incorporates tank trucks for spraying down the streets, as well as street sweeper trucks that double as snow ploughs in the winter months. Half of Belgrade's fleet of 200 sanitation vehicles now bear the DAF marque.
Thinking Locally
Gradska Ćistoća acquired the new DAF trucks from local dealer Braca Crnomarkovic. The dealer's proximity and ability to service the trucks played a key role in the city cleaning company's decision, along with the reliability of its existing DAF trucks and their service records.
The city of Belgrade and its suburbs currently have a population of 1.7 million people, and they're continuing to grow. "The workload is increasing and that's why our services have to become better and faster," says Gradska Ćistoća director Marko Popadic. "This means that the service provided by the DAF dealer organisation and the reliability of the vehicles is of crucial importance to us. Replacing our existing vehicles with new DAFs has helped make our staff's work more efficient, safer, and cleaner."
The Trucks
DAF's LF truck is available with a PACCAR 4.5-litre PX-5 four-cylinder or a 6.7-litre PX-7 six-cylinder engine. Its transmission options include manual, automatic, and Allison automated gearboxes with five, six, nine, or 12 speeds.
Meanwhile, the DAF CF comes with a PACCAR PX-7, MX-11, or MX-13 engine and a 12- or 16-speed automated TraXon gearbox.
Find The Right DAF Truck
Look to Truck Locator for a tremendous variety of new and used DAF trucks for sale, including LF and CF models.