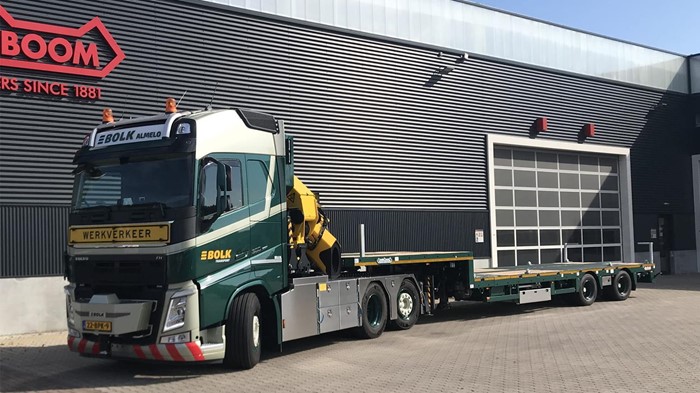 ---
Bolk Transport, a logistics and distribution specialist based in the Netherlands, recently purchased 10 Nooteboom low loader semi-trailers. Nooteboom has begun delivering trailers from the order, which includes a mix of two- and three-axle extendible Multitrailers.
One such model is an MCO-38-02V/L that Bolk Transport will use to haul cable drums. It features manual steering and power-steered axles as well as a load floor "with integrated rails for locking the drum on any position," Nooteboom explains. The two-axle, step-frame MCO-38-02V/L also has a 1.81-metre axle distance and can support axle loads of up to 10 tonnes. Nooteboom says this capability is crucial "when transporting divisible loads within the normal transport regulations."
---


Nooteboom Multitrailers
Nooteboom's Multitrailer range includes trailers with two to 10 axles that support payload capacities of up to 180 t. Within that range is the MCO lineup of low loaders, which are available with two to eight axles, hydraulic steering, remote-controlled manual steering, and fixed or extendible load floors. There are also options for SAF or BPW axles, axle distances of 1.36, 1.51, or 1.81 m, and load floor widths of 2.52 or 2.74 m. Nooteboom can customise these trailers to meet customer demands as well.
Find Your Next Trailer
Truck Locator has a large selection of new and used semi-trailers for sale from Nooteboom and many other popular brands.