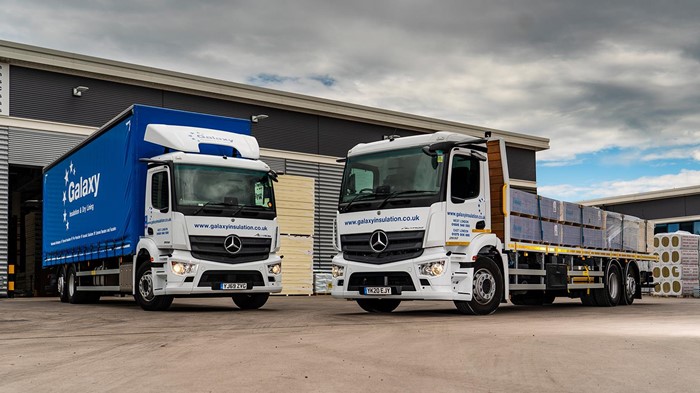 ---
Transport regulations for London's Direct Vision Standard employ a star ratings system—from zero to five—based on the window visibility of goods vehicles over 12 tonnes GVW. The regulations, which require vehicles working in London to have at least a 2-star rating, would have gone into effect this October but implementation was pushed back to March 2021 due to the pandemic. By investing in eight Mercedes-Benz Actros rigids with 4-star Direct Vision Standard ratings, Galaxy Insulation & Dry Lining will be able to stay abreast of the regulations for years to come.
Stars Of The Fleet
Sheffield-based Galaxy Insulation & Dry Lining recently opened two depots on the outskirts of London in Uxbridge and West Thurrock; each location now uses four of the new Actros 2532 models to deliver insulation and lining board products. The 26-tonners have ClassicSpace S-cabs with 320-millimetre engine tunnels, a combination that offers a relatively low floor and driving position. And when combined with Mercedes-Benz MirrorCam system, the specifications let the new trucks achieve the 4-star Direct Vision Standard rating. "Protecting our investment against stricter requirements in the future was certainly a consideration," says said Operations Director Richard Walker. "More importantly though, we wanted the trucks to be as safe as possible, both for our own staff and other road users."
---


All About The Actros
The fifth-generation Actros, winner of the International Truck of the Year 2020 award, is built for long-distance haulage and heavy-duty distribution. The 18- to 33-tonne truck is available as a rigid or tractor unit with axle configurations ranging from 4x2 to 6x4. There are 17 available cab variants in two widths, with roof shape options such as GigaSpace, BigSpace, StreamSpace, ClassicSpace, and CompactSpace. Euro VI engine outputs range from 238 to 625 horsepower (175 to 460 kilowatts) and from 1,000 to 3,000 newton metres of max torque.
The Actros' Multimedia Cockpit combines ergonomic and connectivity refinements to allow operators to drive and live in comfort. Standard safety features include a driver side airbag and the Mercedes-Benz Safety Package, which includes Active Brake Assist with Proximity Control Assist and pedestrian recognition technology.
---


Find The Right Mercedes-Benz Actros For Your Operation
Truck Locator provides access to a fine selection of new and used Actros trucks and other Mercedes-Benz vehicles for sale.