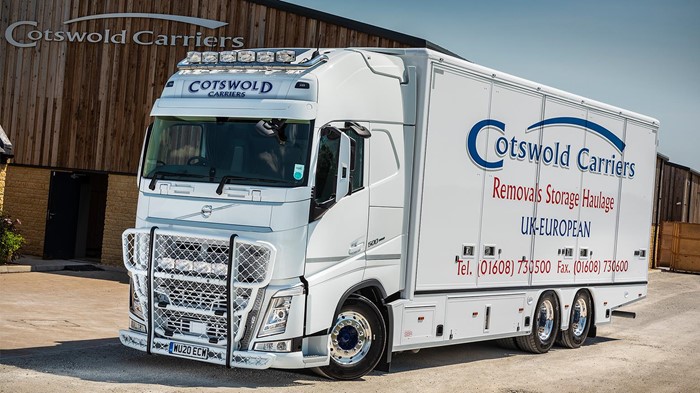 ---
Cotswold Carriers, a removal service provider based in Chipping Norton, Oxfordshire, added a new Volvo FH truck to its fleet that will haul a tandem-axle drawbar trailer. The 6x2 rigid features a Globetrotter XL cab, three axles with air suspensions, and a lifting rear axle, all on a 5,200-millimetre wheelbase. Cotswold Carriers, which owns three other Volvos, opted for the Two Bed Resting and Drive+ Packages to keep drivers comfortable on longer outings.
The new FH also features a 13-litre, Euro 6 engine that produces 500 horsepower (373 kilowatts) and 2,500 newton-metres of torque and a Dual-Clutch I-Shift transmission. Its box body comes from SBR Specialist Coachbuilders and "allows Cotswold Carriers to fill the truck with multiple loads on removals runs across the UK and into Europe," Volvo says. Covered by five-year Volvo Gold Contracts, the truck is expected to cover 80,000 kilometres each year.
A Big Hit With The Drivers
"A lot of the work will be local removals around the Cotswolds area, but we also do big trips into France, Switzerland, and beyond," says Dean Cooper, managing director of Cotswold Carriers. "So, having such a big spec of vehicle allows us to fill up the truck during these longer trips. The drivers love the Globetrotter XL cab as well. You can have two guys living in it for up to 10 days at a time when they're on a long run, but there's plenty of room. The gearbox on this new truck is a real game-changer, too. The first one we had with the I-Shift automatic gearbox was about 10 years ago now, and the driver loved it. But this latest model has the Dual Clutch I-Shift, which has just taken it up a notch, it's so smooth."
---


More Volvo FH Details
Volvo designs the FH series for minimum air resistance and maximum uptime. The truck comes with your choice of five sleeper cab configurations ranging from a flat top to high-roof Globetrotter variants. Besides the tractor mentioned above, the FH is also available as a rigid truck. Engine options include six-cylinder diesels ranging from 420 to 540 hp (313 to 403 kW) and 2,100 to 2,800 N-m of torque. The truck comes in axle configurations ranging from 4x2 all the way up to 10x4.
You will find hundreds of new and used Volvo trucks for sale on Truck Locator, including a large selection of FHs.